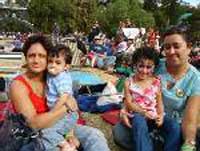 Arriving at Botanic Park, Adelaide to the sounds of Sambasundas Indonesian drumming workshop is a perfect welcome for me and Iranian friends Leila and Saeed.
They spent three years and eight months experiencing mental anguish and physical illness in the searing desert heat of Curtin Camp W.A. and Port Augusta, S.A. detention centres after fleeing from religious persecution in Iran.
In November 2005 they received Permanent Residency to remain in Australia. Leila has just finished two full days of exams, which she hopes will allow her to practice in her chosen profession as Pharmacist.
"Now, thanks to the generosity of Judy Shelley and AIAA. we are here all together, with Leila and Saeed's two young children, Ghazal aged 4, and 18 month old Melad, wide eyed with excitement.
As we stroll under the huge shady trees, we are greeted by Efiq, one of the members of Sambasunda, who has played also with Langan Sari Gamelan in Byron Bay, of which I am a member.
Soon we are exploring the sights and sounds of the festival. Many friends who have either been in detention or who have visited Leila and Saeed whilst in detention, come up to say hello and catch up on the latest news. When Sambasunda performs on the main stage we laugh and dance with the crowd to their dynamic rhythms.
The whole festival feels like a tiny world within a world where everyone is happy, relaxed and enjoying the friendship and companionship of one another. Many cultures, many colours and many hearts beating as one.
It is a celebration of life which we will always remember."