Performance Art by Iwan Wijono
Born 25 January, a few decades ago, under the Soeharto regime in the city of Solo, Central Java, where the influence of the feudal culture is still strong. Also where the global culture situation (from the west) is dominated and becomes the standard of existence for the middle class to the top.
In the nineties, Iwan moved to Jogja to study International Law at Universitas Islam Indonesia. While studying in this faculty, he started to understand how to read the map of socialising with other countries of the world, and to understand that countries who have previously been colonised, can also then become the new colonies of the type of people who have previously colonised them. While studying law Wijono was active with other students within the pro-democracy movement who opposed Soeharto, who was known to be KKN (Collusion, corruption and nepotism) and to guard against the continuation of the power of the Soeharto government who were known to be feudalistic, capitalistic and militaristic. And morover the young Indonesians who had a new ideology that is 3M : Microsoft, Mc Donalds, MTV.
In the third year living in Jogja as a city with lots of art activity and seeing many art activities both traditional and contemporary, in the end Wijono enrolled as a student of painting at ISI - Indonesian Art Institute, moving between both kampuses, as well as places where the student activists met, as well as socialising with the street art scene, and the tourists and foreigners in Jalan Malioboro.
The student movement which opposed inequality brought Wijono to look for an art form which was efficient in delivering political messages, finally with body media or performance art he went to the streets to take these political messages. He was also aware that the usual art forms were paintings which were far from this type of intervension but

were commodities of an art market which created the art boom.
The standard of success for a painting, exhibition, or artist's career was meausured by whether their paintings sold or not. The Collectors were like art komandos of paintings which sold in the market. The irony is that paintings with political themes were very popular in the market, even though it wasn't necessary to really understand their political message but it was more important that it be considered a good investment by the collector.
Besides the political awareness above, Wijono also gained an aesthetic awareness that performance art could be undertaken anywhere and was not restricted by exhibition space, public or even the time of the activity.
Lahir(25 Januari) beberapa puluh tahun yang lalu di bawah rejim Soeharto di kota Solo(Jawa Tengah)dimana satu sisi kebudayaan feodal masih sangat kental, dan di sisi lain situasi kebudayaan global(dari Barat) mendominasi bahkan menjadi tanda status sosial kaum menengah ke atas untuk menilai eksistensinya.
Tahun 90-an pindah ke Jogjakarta untuk sekolah Hukum Internasional di Ull(Universitas Islam Indonesia), di fakultas itu mulai mengenal peta pergaulan segara-negara di dunia, dipahami bahwa negara-negara bekas jajahan kemudian menjadi new colony kembali oleh kelompok bekas negara-negara penjajah.
Pada tahun-tahun kuliah hukum itu aktif bersama mahasiswa-mahasiswa yang lain dalam gerakan mahasiswa pro-demokrasi melawan pemerintahan Soeharto yang diketahui KKN (Kolusi, Korupsi dan Nepotisme) dimana untuk menjaga kelangsungan kekuasaannya pemerintahan Soeharto dikenal sebagai pemerintahan yang Feodalistik, Kapitalistik, dan Militeristik. Lebih jauh lagi bahwa anak muda Indonesia mempunyai ideologi baru, yaitu 3M: Microsoft, Mc Donalds, MTV.
Pada tahun ke tiga tinggal di Jogjakarta sebagai kota yang mempunyai banyak aktivitas kesenian, melihat banyak kegiatan seni dari yang tradisional hingga kontemporer, akhirnya mendaftar menjadi mahasiswa seni lukis di ISI (Institut Seni Indonesia), akhirnya sering mondar-madir di dua kampus, ditambah di tempat-tempat gerakan mahasiswa berkumpul juga ditambah bergaul di lingkungan seni jalanan bersama pula turis dan orang-orang asing di Jalan Malioboro.
Gerakan mahasiswa yang melawan ke-tidakadil-an membawa Iwan Wijono untuk mencari bentuk seni yang praktis untuk menyampaikan pesan-pesan politis, akhirnya dengan media tubuh atau performance art turun ke jalan dengan pesan-pesan politis itu, karena juga disadari bahwa media seni rupa yang sering dipakai adalah seni lukis sudah sedemikian jauh terintervensi oleh modal dan pasar hingga terjadilah bom semi lukis.
Penilaian berhasil tidaknya sebuah lukisan, pameran, dan karir pelukis adalah laku atau tidaknya lukisannya. Kolektor adalah seolah-olah pemegang komando lukisan semacam apa yang laku di pasaran. Ironinya adalah lukisan-lukisan dengan tema-tema politis sangat laku di pasaran, walaupun tidak perlu dipahami lebir jauh pesan-pesan politisnya tetapi nilai investasi lukisan itu menjadi lebih penting buat kolektor.
Disamping kesadaran politis di atas, kesadaran estetis bahwa performance art lebih memungkinkan untuk membuat aktivitas seni dimana saja tidak terbatas oleh ruang pamer, panggung, publiknya, maupun waktu aktivitasnya.
Contact Iwan by email: iw.wij@lycos.com
Greenman
1996

Kuningisasi
1997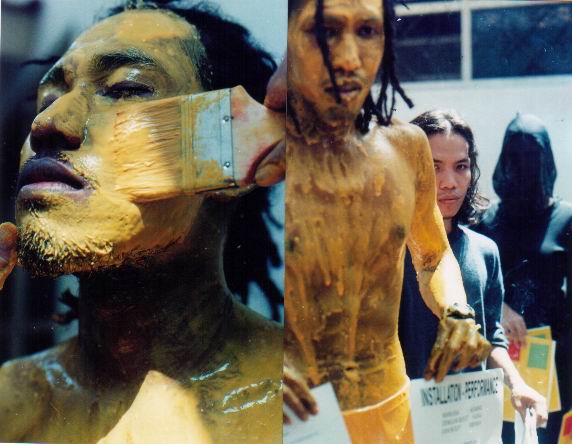 Human right
1997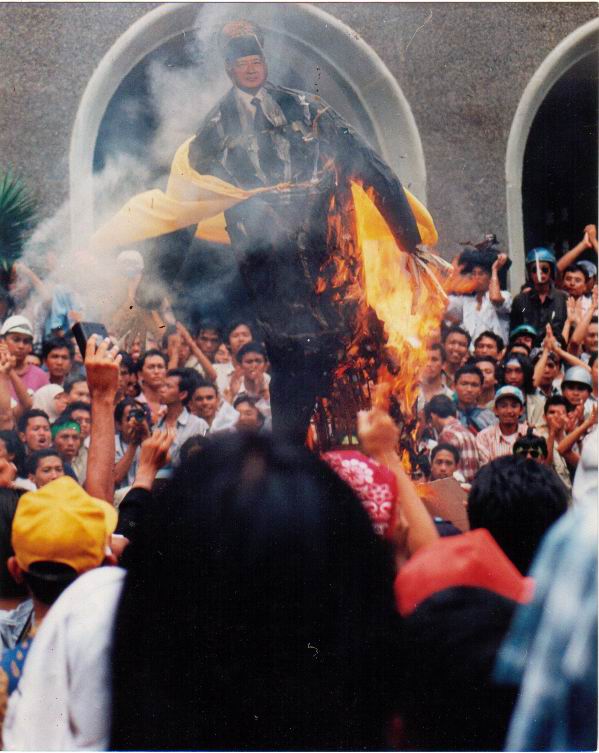 anti Soeharto
1998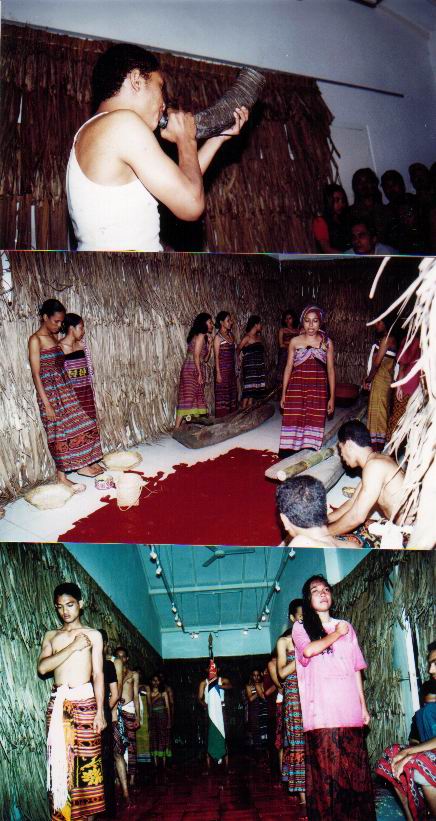 pro kemerdekaan
1999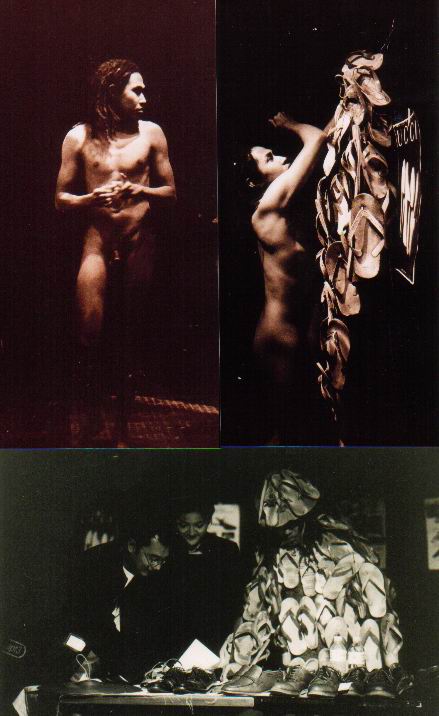 Pelelangan
1999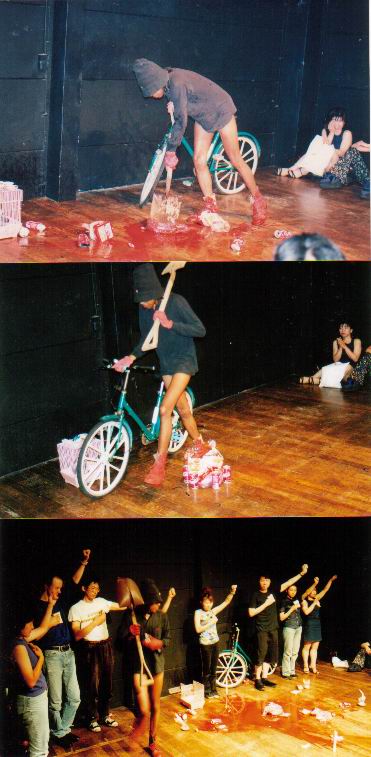 Making revolution
1999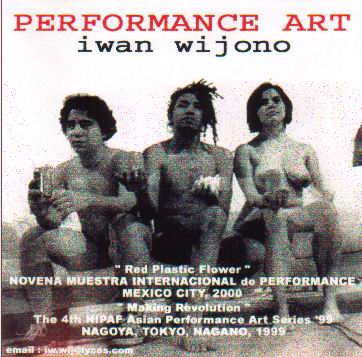 Red plastic flower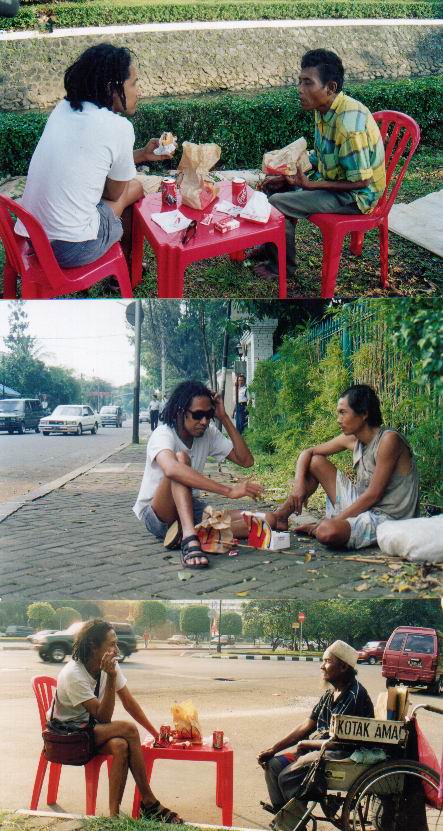 Piknik
2001