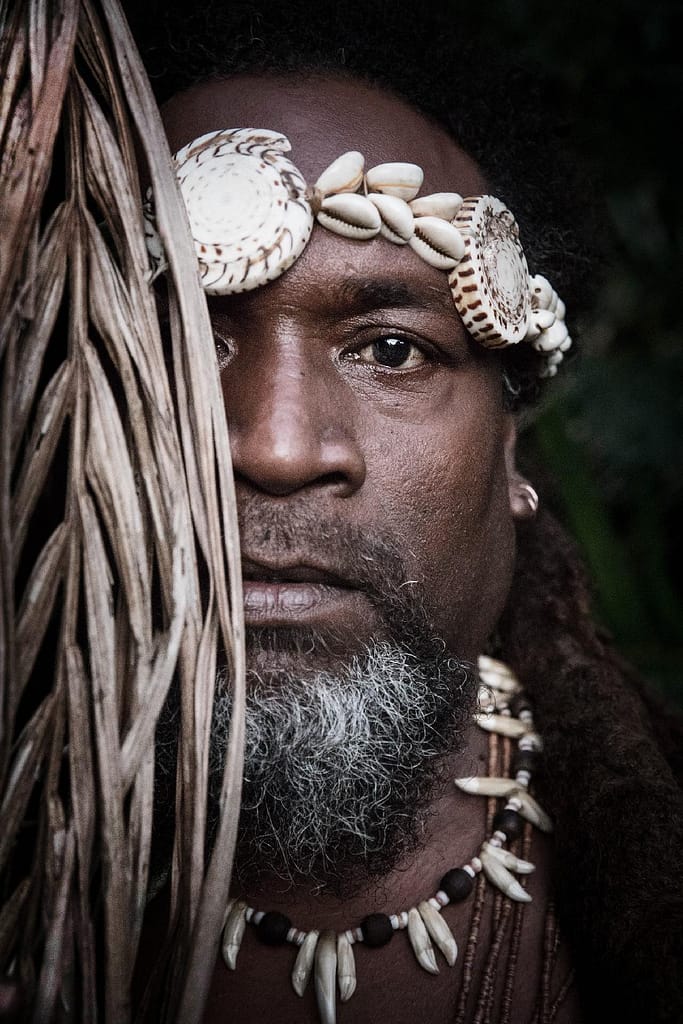 Natty Dolaiasi, renowned musician, singer and foremost cultural custodian of the Solomon Islands, is returning to tour the East Coast of Australia from March to May 2023.
Natty is deeply passionate about sharing the Solomon Islands culture internationally at every level from major international festivals to schools, universities, music camps, youth groups, choirs, music venues and community events.
Natty is seeking to preserve the traditional Solomons culture from being lost and also seeking international recognition for his culture and his country.
"It's good to let other people know that we do exist as humans, and going out and telling people about what cultures we have through stories and songs… it's a good thing for our culture to be heard, to be seen and to be shared… we are part of this global family."
"What we are here to do is to share, acknowledge and respect."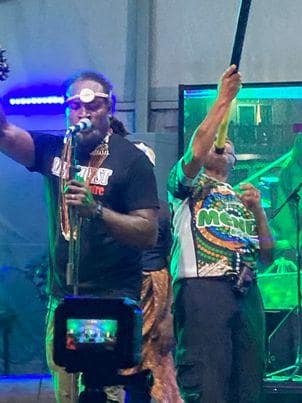 Bio
Natty Dolaiasi is a cultural custodian and traditional musician from Lau Lagoon in Malaita Province Solomon Islands, born the son of a Chief, Natty became a leader of the movement to preserve the traditional cultures of the Solomon Islands from being lost.
Natty is a world class, internationally recognised touring artist, he is renowned as a warrior of tribal songs of the Solomon Islands and the bearer of deep cultural knowledge and sacred chants. Through sharing this rare tribal music, Natty Dolaiasi welcomes the listener to the beauty and spirituality of the Solomon's mystic songs and music. Natty has travelled the length and breadth of the Solomon Islands receiving the gifts of traditional knowledge from the elders. He is deeply passionate about sharing the extraordinary sounds and harmonies that are the unique cultural richness of his cultural songs in 7 different tribal languages accompanied by the beat of the traditional log drums.
Since 1995 Natty has represented the Solomon Islands at International Festivals, Film documentaries, recordings and performances throughout Australia and the Pacific, representing his country at peak international festivals such as the Melanesian Festival of Arts, South Pacific Festival of Arts, in Australia at Quandamooka Festival, Island Vibe Festival, Byron Harmony Festival, Kinship Festival, Macfest and Festuri Festival as well as the most significant films and Pacifica recordings of our times such as Siva Pacifica and "Last Voices from Heaven". In 2018, 2019 and 2020 Natty undertook major tours of Australia and as well as visiting NZ, Taiwan and the Japanese Peace Boat on a mission to share these exquisite musical treasures from his heart to the world.
For Schools:
Artist Name: Natty Dolaiasi
Origin: Lau Tribe, Malaita Island Province, Solomon Islands
Teaching Experience: Natty Dolaiasi is experienced in teaching every age group from pre-school up to year 12 having toured schools and youth groups in Australia during 2018-2020, as well as teaching adult choir workshops.
Natty Dolaiasi currently holds the Portfolio of Traditional Cultural Teacher at the Dream Cast Youth Theatre in Honiara, Solomon Islands. Natty holds a permanent role teaching and preserving the traditional cultures by sharing and handing down to the youth of the Capital City with the intention of maintaining the traditional cultures from being lost.
He also holds the position of Artistic Director at Ethno Solomons annual international youth music camp held in Honiara.
Natty Dolaiasi is a very experienced musician/performer who started his career many years ago in his teens when he was invited to come to Australia for recording a traditional music project, from then on Natty became a professional musician for the last 30 years, representing his country at all major international events, films, videos etc focussed on sharing and preserving Solomons culture.
Student Age Range: K-12 with workshops adjusted to suit various age groups.
Subjects: Solomon Islands story-telling, traditional singing, chants, drums, percussion and dance
Musical Instruments: Solomon Islands wooden log drums, bamboo instruments, traditional seed rattles/shakers
Time: 50 Minutes
Class sizes:
Small class workshops can be held with hands on musical instruments such as drums, bamboo instruments and traditional rattles where students have the hands-on experience of learning to play the instruments, as well as learning to sing songs in Solomon Islands languages.
Natty will share with the students some traditional stories and experience of traditional ways of life in the Solomon Islands – 80% of the population still live in remote islands, living traditionally without electricity, plumbing or modern technology as subsistence farmers maintaining many of the traditional ways, farming practices, building custom house/leaf huts, rituals and ceremonies.
School performances:
Natty Dolaiasi performs for whole school audiences either as a solo artist or accompanied by another musician or band, sharing stories, songs, dances and musical instruments hand-made wooden log drums and traditional seed rattles
The performances are focussed on sharing the traditional culture of the Solomon Islands sung in tribal languages and traditional music. Students are invited to participate in hands-on experiences of playing the traditional instruments onstage, to sing, dance and clap with Natty during the performance.
Benefit to students:
Natty Dolaiasi will immerse students in the rich cultural experience of experiencing Solomon Islands traditional art forms untouched by the outside world.
The Solomon Islands is an archipelago of 1000 islands located only 3 hours from Brisbane- a very near neighbour to Australia.
Australian audiences are in a very good position to be able to experience the incredibly exciting and rare Solomons cultures from one of our nearest neighbouring countries, providing a global experience and perspective unique to our Pacific Region.
Australian schools and multicultural communities have a strong representation of Islander and indigenous students – students originating from "Our Pacific Islands family" as well as Indigenous Australians will feel supported and included by having a visit to their school by Natty bringing indigenous Islander culture to their classrooms.
Solomon Islands music and culture is unique and interesting with complex rhythms which will be of interest music and dance students.
Solomon Islands is culturally and linguistically diverse representing Melanesia, Polynesia and Micronesia with a varied blend of indigenous cultures from many origins.
Cost: Minimum cost $7 per student, depending on numbers. Minimum number is 100 students, special price for smaller numbers.
For more information visit:
Facebook: www.facebook.com/natty.dolaiasi
For Bookings Contact:
Email: coloursoftheworldtours@gmail.com
Phone: 0476197922
Website: https://www.facebook.com/coloursoftheworldtours
Gallery
---