Home | Vol 11 Table of Contents | Previous Issues | Contact Us: 07 55278753 / 0405463663 | Email: judybyronbay@yahoo.com
Wahyu Roche: Artist-in-Residence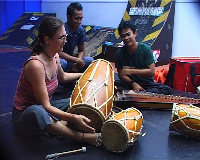 Wahyu Roche first came to Byron Bay in 1999 when AIAA and Byron Gamelan Society presented a performance by Australia-Indonesian percussion group Warogus.
Warogus is Ron Reeves (Sydney-Aust) Wahyu Roche (Bandung-Indonesia) and Agus Super (Bandung-Indonesia). Three astounding musicians who perform and create exciting new music based around the Sundanese Rampak Kendang style - three Kendang drums playing together. They also compose fusion pieces incorporating a wide range of instuments from many countries including djembe, suling, didjeridoo, kecapi among others.
Even though Warogus only spent two days on the North Coast at that time, Wahyu expressed a desire to return to Byron Bay for a longer stay, to teach and collaborate with local groups under the AIAA Artist-in-Residence Program.
In 2001, AIAA N.S.W. North Coast Branch was successful in gaining support from the Australia Indonesia Institute in Canberra, for a small grant to invite Wahyu back to Byron Bay for a three month residency.
Due to Wahyu's commitments in Bandung and Germany, the project was scheduled for February 2002. Working together with Sydney AIAA member Ron Reeves, the decision was made to combine the Warogus musician-in-residence project with the Warogus tour and Nova project "The Drummers of Gilgamesh" in early 2002.
Wahyu and Agus flew into Brisbane in time for Warogus to perform at the Woodford Festival and then proceeded to tour down the East Coast with shows in Brisbane, Gold Coast, Bangalow, Armidale, Tuncurry and Sydney during January. February saw Warogus madly rehearsing in Perth for "The Drummers of Gilgamesh" production which was an enormous success.
February 18th and Wahyu was on his way back to Byron Shire, ready to commence his three month residency. Wahyu's stay in Byron has been a very wonderful and important experience for many people, not only on the N.S.W. North Coast, but in surrounding regions as well.
During his residency, Wahyu's regular activities have been weekly workshops with the Byron Bay degung gamelan group, Langen Sari and a weekly rampak kendang course.
Besides that, in keeping with the AIAA concept of wide participation in residency projects, Wahyu has worked with many kinds of groups within the community and across a wide geographical area. Wahyu's work on the North Coast has included workshopping with children in schools such as Byron Public School, Bangalow Public School, Wollongbar Public School, Coraki Public School, Byron Community School, Teven-Tintenbar Public School, Fernleigh Public School, Pearces Creek Public School etc as well as teaching adults in drumming, flute and singing. Collaborations included working with such well known artists as Greg Shehan, Steve Berry, Tarshito, Cinta, local Indonesian band Duta as well as getting out on the street and busking with local Aboriginal and multi-cultural musicians. Wahyu has also demonstrated/jammed Sundanese music at the Byron Youth Activity Centre and been a regular guest and performer on Suara Indonesia radio show.
Wahyu's stay on the North Coast has included many trips out of the area to visit, work and record with groups in other regions, including QUT, Brisbane, Gamelan Giri Jaya, Toowoomba, Gamelan Swara Naga, Armidale, Newcastle Percussion Festival, Anything But Roy, Obek and Songket in Sydney among others.
Wahyu's stay has been a very enjoyable and valuable experience for everyone touched by his prescence among us. His farewell performance will be held in Ewingsdale Hall on Saturday 18th May starting at 8pm. The night promises a feast of Indonesian music and a showcase of many of the groups he has collaborated with, during his stay. Thanks and congratulations to Kym Hall who worked closely with Wahyu and supported him during his residency in the North Coast, performing and conducting workshops with him as well as making sure he got to his appointments on time!
Wahyu will be in Sydney for one month from mid-May - Mid June. While in Sydney, Wahyu will be performing with Ron Reeves, Kym Hall and Obek on 25 and 29 May 2002. To find out times and venues contact: Wahyu ph# 0421 498 149 or Kym ph# 0412 601 934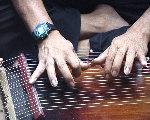 Wahyu plays kacapi
Interview With Wahyu
One morning Wahyu Roche, Kym and Jaemmy came into the Youth Activity Centre and gave a demonstration of Indonesian music on Kendang, Kacapi and Suling. I was very impressesd and asked Wahyu if it would be possible to record the music and if I could interview him as well for Suara Indonesia Radio Show Bay FM Community Radio.
Interview by Mark Randall, Work for the Dole Project AIAA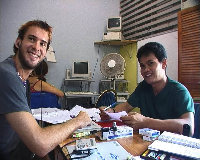 M- Hey Wahyu pleased to meet you, my name's Mark, how's things today.
W- I'm very good today, it's a lovely day.
M- Can you start off by telling us a bit about yourself.
W- My name is Wahyu from Bandung Indonesia. I play music from my family because everyone is a musician. I am very happy here, it is a great experience.
M- So, you are our Musician in Residence for AIAA.
W- Thankyou for AIAA.
M- They are doing a great job.
W- And a good program.
M- What instruments do you play?
W- Kendang (drums), Kacapi (strings, harp), Suling (bamboo flute)
M- How long have you been playing?
W- 20 years!
M- What's your favourite instrument?
W- Kendang, because it is good for many different rhythms.
M- That's very interesting, as I get into the areas of drumming and rhythm myself, it would be great to hear you play. Now you've brought in the kendang and kacapi, did you want to get up and have a bash now.
W- Sure no worries.
M- Good one, that's great Wahyu. Mate all the best! How much longer have you got left in the country?
W- 2 and a half months.
M- OK Wahyu, take care, we will see you next time.
W- No worries.