Vol 28
The First On-line Magazine about Indonesian Culture in Australia. ISSN 1443-3680. Journal of Australia Indonesia Arts Alliance. Also available in the Archives of the National Library of Australia at: http://purl.nla.gov.au/nla/pandora/inspirasi

Contact Us: 07 55278753 / 0405463663 Email: judybyronbay@yahoo.com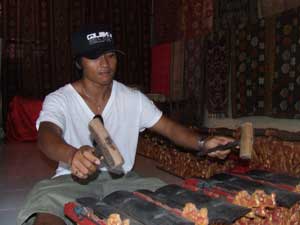 Balinese Musician in Residence
I Made Denis is a Balinese gamelan musician originally from the traditional village of Tianyar, East Bali who will be visiting Australia during May-July 2010. Made Denis has been performing Balinese gamelan and traditional arts for approx 20 years and is a member of one of Tianyar's keluarga budaya - a well known cultural family and a member of the Yowana Gita Sasmita gamelan group, Tianyar. Made Denis will be visiting Australia to provide support for gamelan groups and to collaborate with Australian musicians during his residency. Contact Judy 02 66857789
Denis is currently based in Kuta and is available as a cultural guide for visitors to Bali - to have a chance to see traditional village life and be introduced to traditional Balinese culture, gamelan groups and teachers.
Mobile: +6281338427446
---
Saratuspersen - Journey to Australia 2010
Bandung's exciting gamelan fusion band will be touring Adelaide and Melbourne during April 2010.
April 10 7-10pm : Unley Citizen's Hall, Unley Park, Adelaide
April 11 12am-3pm : Rymil Park, Indofest, Adealaide
April 12 11am-2pm : Rundle Mall, Adelaide
April 13 12am-4pm : Aborigin Museum, Adelaide
April 14 7-9pm : Flinders University, Adelaide
April 15 12pm : Wesley College, St Kilda Rd, Melbourne
April 16 12pm : Mount Erin College, Robinson Rd, Frankston Sth
April 17 12pm : Konsulat Jendral R I, Queens RD, Melbourne
Further information: indofest.com.au
---
Survey
If you would like to complete the survey, please fill in the Form. Ignore the section at the bottom if you do not wish to become a member.
Join AIAA
Members only services include:
Access to members only AIAA yahoogroup which has the most up-to-date info on Indonesian culture and events in Australia.

Support for Indonesian cultural exchange projects through contact with Australian and Indonesian individuals and organisations committed to cultural exchange. Go to Join AIAA in the table of contents above left.
If you would like to join AIAA and become a member of indoarts e-group, fill in the Join AIAA form and send a cheque to:
PO Box 484 Byron Bay 2481 NSW Australia

or contact: Phone: 61 (02) 6685 7789
Email: austindoarts@hotmail.com
Membership Fees
$5...............hardship

$10 .............concession

$20.............employed

$50.............organisation

$30.............organisation concession
Editors: Judith Shelley Daniel Summerfield, Radha Koch, Marcus Herron, Darshi San
Web design: Carole Chapman Simon Kertonegoro, Daniel Summerfield
Thank you to all contributors. Terima Kasih Banyak!
Phone: 61 (02) 6685 7789
Email AIAA members: indoarts@yahoogroups.com
Email Web Site Team: austindoarts@hotmail.com
Address: PO Box 484 Byron Bay 2481 NSW Australia
Copyright © All information, pictures and sound on this page and the following pages are copyright and can only be reproduced for study purposes or sharing of information. Disclaimer: The articles contained in this magazine are gathered from a wide range of sources and do not necessarily reflect the views of AIAA members.