Home | Vol 5 Table of Contents | Previous Issues
Visiting Artists
Cultural Exchange is about person to person contact, sharing and cultural collaboration. AIAA aims to encourage cultural exchange by publicising art exchanges and requests for involvement. Indonesian visual and performing artists are invited to visit Australia to teach, perform or exhibit and sometimes information about their visits is hard to find. If you are inviting visitors from Indonesia please let us know and we will include the information on this page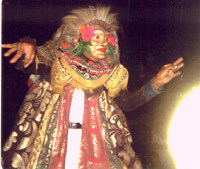 Topeng Dance in Ubud Bali
Krakatau Erupts in Australia
World music within the progression of modern sounds… blending an amazing mix of east and west. (The Straits Times).
The distinctive tones and sounds of Krakatau originate from the ancient gamelan tonal system called slendro. The slendro tonal system gives Krakatau great freedom of expression so that the Indonesian tradition itself unfolds within the sound of modern musical elements as different rhythmic souls fuse. Through devotion and hardship, Krakatau successively contributes new sound genres to World Music.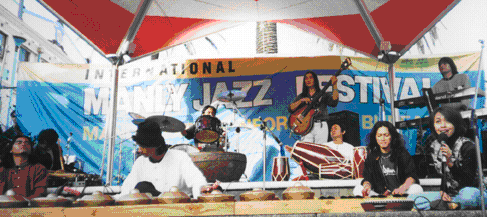 After several changes within the band's lineup, the group made a significant move in 1993 from a jazz-pop-fusion orientation to that of Indonesian traditional music, specifically Sundanese music of West Java from where the entire band originates. After developing their music's new format using the microtonal system of the ancient gamelan tradition or the so-called slendro scale, Krakatau released the album Mystical Mist in 1994. During the following years the band continued to evolve with three additional young talented players from the traditional music college in Bandung joining the gamelan section. Today Krakatau has taken another step farther from their roots in West Java to explore and adopt Indonesia's multicultural diversity to further enrich their sounds and compositions. The music is energised by a modern feel of jazz-rock-R&B and rhythmic souls from other parts of the world fusing with various ethnic traditions of Indonesia. Despite the distinctive frequency of particular tones that might sound peculiar to Western ears, the treasure of rhythmic expression is a valuable language that communicates to global audiences. Furthermore, the music has been successively absorbing the Western diatonic tradition into the basic system of the slendro pentatonic tonality. The uniqueness of Krakatau's music is difficult to describe in any exotic or fancy phrase. The only way to find out is through the experience: "One must see and hear the difference". During their second visit to Australia, Krakatau will tour Sydney, Canberra and Bellingen presenting performances and workshops of their unique combination of Sundanese traditional music from West Java with jazz idioms. Krakatau has performed both locally and internationally and will release their new CD entitled Magical Match for their Australian tour in September/October 1999. For copies contact Arimba Culture Exchange on Tel/Fax (02) 9569 9028. KRAKATAU:
Dwiki Dharmawan - Micro-tuned keyboards and synthesizers
Pra Budidharma - Slendro fretless bass
Agus - Drums and percussion
Trie Utami - Vocals
Yoyon Darsono - Suling, rebab, tarompet and vocals
Ade Rudiana - Kendang and percussion
Efik Zulkifli - Bangsing, saron I, percussion and vocals
Deni Tudi Rahayu - Saron II, percussion and vocals
Zainal Arifin - Bonang, percussion and vocals It is planned that Krakatau will tour Australia later this year or in 2000. Please stay tuned to Inspirasi for itinery dates! For Furthur information contact: Arimba Culture Exchange
Email:
arimbace@dot.net.au
TREPANG!
Trepang is an indigenous opera which celebrates the contact history of Yolngu Aboriginal people from northeast Arnhem Land and Macassan people from South Sulawesi, will be performed during the Festival of Darwin 16-19th September. The collaborative performance under the direction of Andrish Saint-Clare is based on traditional cultural materials and practices and is endorsed by cultural leaders in both communities. The version of Trepang performed for Indonesian audiences at the Hari Jadi Gowa in Ujung Pandang in 1997 will now be adapted for Australian conditions.
For further information:
Contact Andrish Saint Claire: daripa@octa4.net.au
Minangkabau Musician-Composer
MusiK KabaU, Brisbane based Minangkabau-influenced performance ensemble is hosting a visit by a guest artist from West Sumatra - Minangkabau musician/vocalist: "Admiral (S.Skar), Dt. Rk Mulia Nan Kuniang"
Admiral is a lecturer in all aspects of Minangkabau traditional music, contemporary Minangkabau fusian, and composition at STSI Padang Panjang (formerly ASKI), West Sumatra's Academy of Performing Arts. He specialises in wind instruments and vocal music, including Islamic ecstatic singing Selawat Dulang, Dikie as well as ancient indigenous traditions such as Dampeang. He is also a regional icon of popular contemporary recordings such as Sutan Palembang (Tanama Records).
Admiral will be in Australia from the 1 July to the 10 October 1999. Anyone interested in workshops, seminars or performances please contact Indija asap for dates available. Admiral would particularly appreciate the opportunity to collaborate with local artists and musicians. A workshop/masterclass in Minang vocal music is proposed for Brisbane in October.
Mr Stupid
Schools in Victoria and South Australia will share in the story of Pak Dungu presented as a Randai 'Singkek' Folk Opera as Musik Kabau undertakes its 3rd tour of the highly succesful Mr Stupid a bilingual primary School Theatre-in Education Show. Featuring guest artist Admiral Dt Rk Mulia Nan Kuniang (SumBar) Dana Diaz-Tutaan (Sydney) and writer/Director Indija N Mahjoeddin.
Children delight in this bilingual tale of how Mr Rotten managed to trick Mr Stupid out of his waterbuffalo, yet how he managed, despite not being very bright, to think up a very clever plan. But can he convince Mr Rotten to buy the magic bell hat, thus falling victim to his own greed? Presented in unique randai folk opera style adapted for young audiences, this 50 minute presentaion features 3 performers including special guest artist Admiral and has been a great hit with both adults and children throughout Victorian and South Australian schools. Combining dance, music, storytelling and martial arts
Interested teachers should contact Nexus Arts 03 9528 3416 regarding bookings for 2000.
Gamelan Master visits Toowoomba
Congratulations are in order for Gamelan Giri Jaya, Toowoomba who have recently received a RAD grant of $7,000 to invite Gamelan Master Bpk Wayan Suwitra to visit Toowoomba for a 10 week residency with the orchestra. Bpk Suwitra will arrive in Australia on July 25 and will be billetted during his stay with the gamelan members. He will be conducting gamelan classes for the group as well as dance classes and private tuition. The high-light of the residency will be a performance by Gamelan Giri Jaya with Wayan Suwitra for the Toowoomba Carnival of Flowers on the 27 September.
Gamelan Giri Jaya have also been very generous in extending their project to include workshops with other Balinese gamelan groups in Brisbane and the Gold Coast. Bpk Suwitra will also visit schools in the Toowoomba area with members of the gamelan. This is the fourth Indoneisan Artist-in-residence project undertaken by Gamelan Giri Jaya. For more information contact Yvonne-email:
kity@glenvaless.qld.edu.au
Ibu Masih from Ubud
Musica Bambusa has co-odinated a visit to Australia by Ibu Masih from Ubud Bali for Feb-Mar
2000. Ibu Masih is a very well-respected Balinese dance teacher and musician, being the leader of the Women's Gamelan in Ubud. It is planned that Ibu Masih will teach and perform in schools on the NSW South Coast and in Sydney.
Musica Bambusa also plan to invite Nyoman Wirawan(Long Hair) a Balinese woodcarver from Nhiu Kuning, Ubud to visit Australia to undertake woodcarving projects and teaching.
For furthur information contact Paula Adolphus Phone: (61) 02 446 1336
Email: musicabam@shoal.net.au
Asia-Pacific Triennial - Outreach Program
The Third Asia-Pacific Triennial will be presented by the Queensland Art Gallery from 9 September 1999-26 January 2000. More than 75 artists from 20 countries will participate. The Indonesian artists who will visit Australia as part of the program include: Mella Jarsma, Moelyono, Tisna Sanjaya, S. Teddy D., Dadang Christiano, Heri Dono, Brahma Tirta Sari and Utopia Batik
For the first time the Gallery has launched the International Visitors' Outreach Program which will link participating artists with audiences throughout Queensland and Australia. Schools, universities, arts and community organisations, art museums and regional galleries are working closely with the Gallery to host residencies, artist-in-schools programs, workshops, exhibitions and lecture programs. If you would like to participate Email: qag@qcc.qld.gov.au
Phone: Christine Clark - 61 07 3840 7169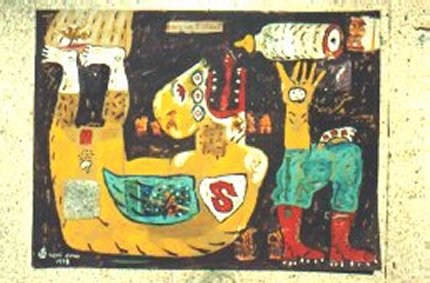 Menyusu Pada Order Baru 1998 - Heri Dono
Indonesian Artists Interested in Cultural Exchange
AIAA has invited Indonesian Visual and Performing artists to express interest in visiting Australia in order to make infomation available for organisations wishing to host Indonesian Artist-in-Residence Programs. These artists have also expressed interest in being visited in Indonesia by Australian artists, collectors, students etc
A letter from Bpk Syahnagra Ismaill
Dear Judith Shelley and Hendri Budiman Thanks for your information about Australia Indonesia Arts Alliance's programs I am a painter
Personally I have contacted and invited friends from abroad who are interested in Indonesia and asked them to visit interesting places, including nature - mountains, villages, natives, arts works, Art Schools, museums, galleries and also to make contact with Indonesian artists. I live outside of Jakarta shich has still a lot of tree and nature interesting to visit.
After reading AIAA's programs I support those ideas and really want to participate in activities. To make my dream of world-friendshipness within art and culture become real.
Enclosed is some information about me Regards Syahnagra Ismaill
Email:
pelukis@hotmail.com
Bpk Syahnagra Ismaill's work will shortly be exhibited in the AIAA Virtual Gallery
Agustus Nadeak - Member AIAA
Agustus Nadeak is an Entertainer/Singer who performs at entertainment venues, hotels festivals etc Agus is presently performing in Japan and is very interested in coming to Australia in order to share Indonesian music here. He performs songs from Indonesia, especially songs from Batak culture from Sumatra.
Phone: 62 361 286337
Email: agustus-leam@hotmail.com or catherine_leam@hotmail.com
Agus Nadeak
| | |
| --- | --- |
| Agus | The Band |
Javanese Dancer
Carlos de Haas and Sinta Ravitasari are new AIAA members from Jogjakarta. Their daughter Anita has performed Javanese and Balinese dance at public performances in Australia and Indonesia such as Canberra Festival 1997 and on television appearances.
Anita will be visiting Australia in April and October/November. If you would like to invite Anita to perform please contact Carlos, Sinta and Anita Phone: 62 274 381 349
Carlos and Sinta are also interested in creating opportunities for cultural exchange and providing support for Australian artists visiting Indonesia
Antonius Kho
Antonius Kho is an Indonesian artist, originally from Bandung who is presently exhibiting in the AIAA Virtual Gallery. Anton is interested in coming to Australia as an Artist-in-Residence to teach, exhibit and share his work here. Anton is interested in teaching Modern painting, oil painting, water colour, batik and drawing.
Contact Antonius Kho PO Box 155 Ubud Bali 80571 Indonesia Phone: (62) 361 974 388
Email:
akho@rocketmail.com
Web site: http://tata.bali.com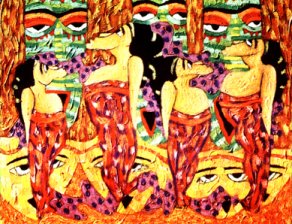 1997 - Antonius Kho
Bpk Midiyanto
Bpk Midiyanto is a gamelan teacher and dalang who has recently been teaching gamelan at Lewis & Clark College, Portland Oregon, USA. He is interested in coming to Australia to teach gamelan and is also available to teach people who would like to learn from a dalang who is also English-speaking. He is able to tune the gamelan instruments. He will be in Solo from June to the end of August and is interested in hearing from Australian people who are interested in studying Javanese culture. Please email Bpk Midiyanto: widiyant@lclark.edu
Anusapati
Anusapati is a sculptor from Jogjakarta who has exhibited widely in Indonesia, as well as in America, Europe, Australia and Japan. He is interested in visiting Australia to teach drawing, sculpture and Indonesian Art History as well as exhibit. Contact Anusapati Phone: 62 0274 896 290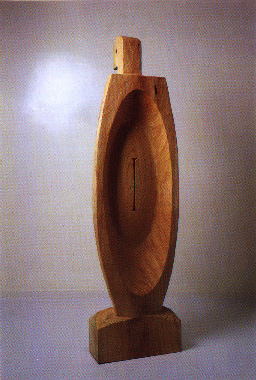 Reconstruction of Time - Anusapati
Bambang Jasnanto
Bambang Jasnanto is a PhD Student in Music Education presently studying in Heidelberg Germany. Bambang is interested in coming to Australia to teach Javanese Gamelan, Singing, Kroncong and Dangdut music.
Contact:Kiai Grinsing Email: us88@rz.uni-karlsruhe.de
I Made Galung Wiratmaja
I Made Galung Wiratmaja is a modern painter from Sukawati, Bali. I Made is interested in exhibiting in Australia and teaching Balinese painting, drawing, realist painting, water colour, oil painting and modern art. Contact I Made Phone: 62 361 298 791
I Wayan Naya Swantha
I Wayan Naya Swantha is a contempory Balinese artist from Denapasar who is interested in exhibiting and teaching oil painting and modern painting. Contact I Wayan at Jl Nanka Gg Turi 28, Denpasar Bali Indonesia
A A Gd Eka Putra Dela
Anak Agung Gde Putra Dela is a Balinese Artist from Padang Tegal Ubud who is interested in teaching realist painting, modern painting, oil painting, water colour, Balinese painting, batik, sculpture and drawing. Contact A A Gd Eka Putra Dela Phone: 62 31 975 414
Yaqub Elka
Yakub Elka is a modern painter from Jakarta. He is interested in exhibiting in Australia and teaching modern painting, water colour and writing. Contact Yakub Phone: 62 21 533 3084
Rachmad Ali
Rachmad Ali is a visual artist from Jakarta who is interested in teaching contemporary painting, realist painting, water colour, oil painting, batik, drawing, modern sculpture and Asmat wood-carving. He is also willing to teach Tari Sedati, a dance from Aceh Sumatra as well as drama, writing and poetry. Contact Rachmad Ali Phone: 62 21 5333 084
Suherwanto(Ewan)
Suherwanto is a contemporary artist from Jakarta who is interested in teaching realist painting, water colour, oil painting and drawing in Australia. He has recently been exhibiting at Galeri Cipta III, TIM Jakarta and his work will be appearing soon in the AIAA Virtual Gallery. Contact Suherwanto Phone: 62 21 863 0586.
Yanuarius Hari Sinthu
Yanuarius Hari Sinthu is a freelance photographer of theatre, dance and art events. He has been involved in Photography Exhibitions, Performances, Installations, Stage Management and Film. He is interested in cultural exchange and collaboration with Australian artists.
Email:
harisinthu@n2photography.com
Web site:
www.solonet.co.id/out-of-fokus
Viktor Sarjono
Victor is a contempoaray batik artist who is interested in coming to Australia to teach batik. He has been actively ehhibiting in solo and group exhibitions and offering workshops in Indonesia and overseas since 1982.
Contact: Fax: 62 274 382613
Rommy Indra Jaya
Rommy is a modern batik artist who has been exhibiting and teaching batik in Jojgakarta, Switzerland and England. He would like to visit Australia to teach batik and exhibit his work.
Email: indrajaya@mailcity.co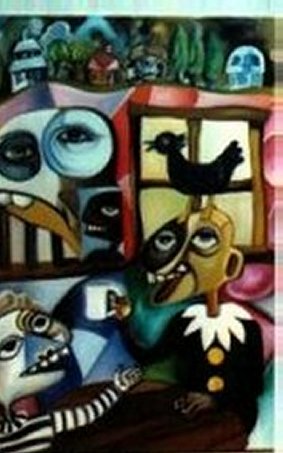 Oil painting by Rommy Indra Jaya
Heri Dono
Heri Dono is presently exhibiting in the Asia-Pacific Triennial at Queensland Art Gallery and will be staying in Brisbane as an Artist-in Residence as part of the Gallery's Outreach Program. He has exhibited extensively in Indonesia and internationally, as well as being the recipient of numerous art awards. If you would like to share ideas or organise an artist's talk while Heri is in Australia: Email:hmmdonut@mailcity.com
For furthur information and to view reproductions of the above artists' work see Virtual Gallery