Byron Harmony Festival 2023 is sponsored by the Community Broadcasting Foundation and Solomon
Airlines.
The Solomon Islands is a treasure trove of traditional music and song. This untouched paradise is almost unknown, a well-kept secret, even though it sits only 3 hours from Brisbane. Australia sits slap bang in the middle of the Asia Pacific Region surrounded by literally thousands of Islands of our nearest neighbours. Byron Harmony Festival celebrates our vibrant multicultural community, while at the same time bringing our near neighbours closer to our hearts.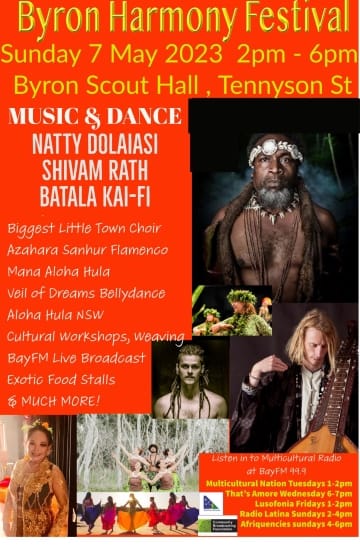 Natty Dolaiasi is a Solomon Islands culture keeper, who is fighting to keep the traditional indigenous cultures of the Solomons alive by sharing the ancient spiritual chants of his own island Malaita and all cultures of the Solomons. Currently touring the East Coast, Byron Harmony Festival will be your last chance to experience this sacred traditional music before Natty heads back to Honiara.
After a hiatus of 3 years, Byron Harmony Festival is back to share the colour and beauty of the many cultures that live here in Byron Shire. We are excited to present the jubilant sounds of Brazil with the amazing drummers of Batala led by local Brazilian diva Priscilla Rios, Indian music impresario Shivam Rath will share some exquisite classical crystal slide guitar while inspiring, award-winning, young Solomon Islands musician Kai-Fi presents his latest electronic fusion sounds. Join in the African drumming workshop with Gabriel, Bollywood dance workshop, sound healing and yoga, massage and exotic foods while dancers from many cultures share their latest offerings such as beautiful Mana Aloha, Veil of Dreams stunning belly-dancing, Aloha Hula NSW, the gorgeous unforgettable Azahara Sanhur Flamenco and more!
Celebrating and honouring our many cultures, has helped to make our country one of the most successful multicultural nations in the world. BayFM radio also shares the voices of many cultures via their multicultural radio programs such as Radio Latina, Lusofonia, Wirritjin, Multicultural Nation, Afriquencies and That's Amore. Once again, our BayFm presenters will be very much a part of Byron Harmony Festival and will broadcast live from the event at Byron Scout Hall.
Earlier in the day, a very rare opportunity to learn Natty Dolaiasi's ancient Solomons tribal songs will be at a singing workshop by Natty sharing traditional songs alongside renowned local choir maestro Peter Lehner – tickets at the door at 11 am – 2pm Byron Scout Hall Sunday 7 May.
Everyone is invited to join in the fun at Byron Harmony Festival – a family-friendly, community event from 2pm-6pm on Sunday 7 May at Byron Scout Hall Tennyson St, Byron Bay! Donations welcome. For more info please contact byronharmonyday@gmail.com