A national network of oganisations and individuals involved with Australia-Indonesia cultural exchange.
AIAA's vision is to promote Indonesian culture, create new pathways for Indonesian artists to share
their culture and create an open forum for cross-fertilisation of ideas.
THIS IS THE ORIGINAL AIAA WEBSITE 1998 - 2017

The First On-line Magazine about Indonesian Culture in Australia. ISSN 1443-3680.
Journal of Australia Indonesia Arts Alliance. Also available in the Archives of the National Library of Australia at: http://purl.nla.gov.au/nla/pandora/inspirasi
Contact Us: 0405463663 | Email: judybyronbay@yahoo.com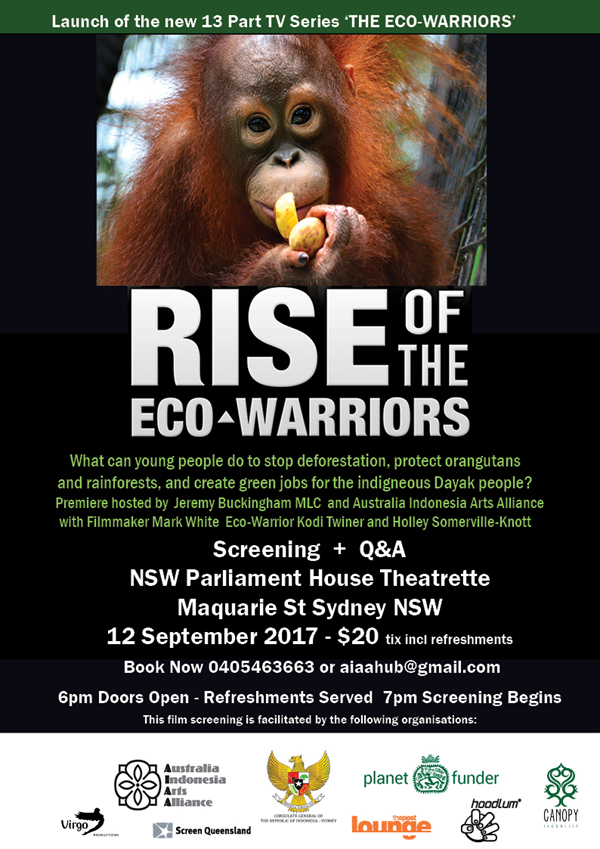 Introduction to the Australia Indonesia Arts Alliance
Promoting and sharing Indonesian Culture since 1998
Founded in May 1998
AIAA was Founded in 1998 as a National Network of Artists and Organizations involved with cultural exchange between Australia and Indonesia and for the last 15 years have been in the forefront of Australia Indonesia cultural exchange throughout Australia and in Indonesia.
AIAA programs have had a massive impact on Australians' experience and respect for Indonesian culture with literally thousands of schools and festival events taking place during the last 15 years. Our aim is to create cooperation and a positive image of Indonesia in Australia.
Some Current Projects:
2016 Australian Cultural Ambassador Project
AIAA initiated this project with the support of the Australian Consulate in Bali and with the assistance of Gamelan Master Dewa Made Nurjana achieved an invitation to present a major collaborative project of Australian and Indonesian artists performing the Shakuntala Dance Drama with full Balinese gamelan orchestra at Bali Arts Center, Bentara Budaya and other major venues in July 2016.
Byron Harmony Festival 2007 – 2016 Free Festival of Multicultural events www.byronharmony.com –2016 Byron harmony Day was also the major fund raising event for refugees in detention in Indonesia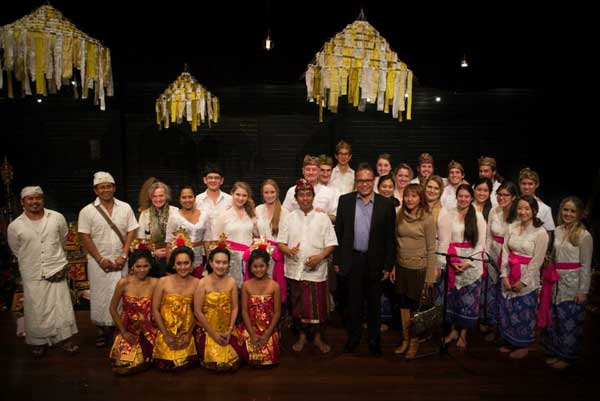 2015 Australian Cultural Ambassador Project
AIAA initiated the Australian Cultural Ambassador project in 2015 in conjunction with the Australian Consulate in Bali and support of the Balinese provincial government and the University of NSW which created the opportunity for over 20 University of NSW students and lecturers to perform at premier cultural event Bali Arts Festival plus a VIP dinner for 100 invited guests with TV and media coverage.
Some highlights:
2000-2014 AIAA Indonesian Artist in Residence Program:
2000 Deni Ozenk - Krakatau Musician in Residence Project
2002 Efiq Zulfiqar - Krakatau Musician in Residence Project
2002 Efen Junaedin – Sambasunda Musician in Residence and Bali Fundraiser
2003-2004 Wahyu Roche Warogus Musician in Residence Project
2005 Heri Dono Artist in Residence Project at Inspirasi Festival
2006-2007 Asep Suhenda Dalang in Residence Program
2010-2014 Made Denis Balinese Musician in Residence – National School Tour
Plus......
2001-2004 Australia Indonesia Poetry Exchange- National Tour of Indonesian writers such as
Emha Ainun Najib, Fatin Hamama, La Rose etc
2002 supported Byron Loves Bali – fundriasing concert for Bali Bomb victims
2002- 2006 AIAA Work For the Dole Project-Training Unemployed in Arts Management
2002-2009 AIAA Salendro Gamelan Group – performances and workshops in NSW and Qld
2003 Shakuntala Performance- Fundraising for Bali Bomb Victims
2004 "Expressions of Love between Australia and Indonesia" Art Exhibition/Art Fest
and Aceh Tsunami Fundraiser
2005 Inspirasi Indonesian Arts Festival:1 month Festival of all Arts- Kecak and Wayang
2005 Bandung Australia Indonesia Friendhsip Project
"Malam Kesehabatan Australia Indonesia" STSI Bandung 100 performers onstage
2005 Colours of the World Festival Byron Bay promoting Multiculturalism
2007 Sambasunda National Tour of Australia and New Zealand @ Womad
2010 Kecak performance and workshop series at Woodford Festival involving 40 dancers, musicians and community volunteers from Qld and NSW- interstate collaboration

---
Eco Warriors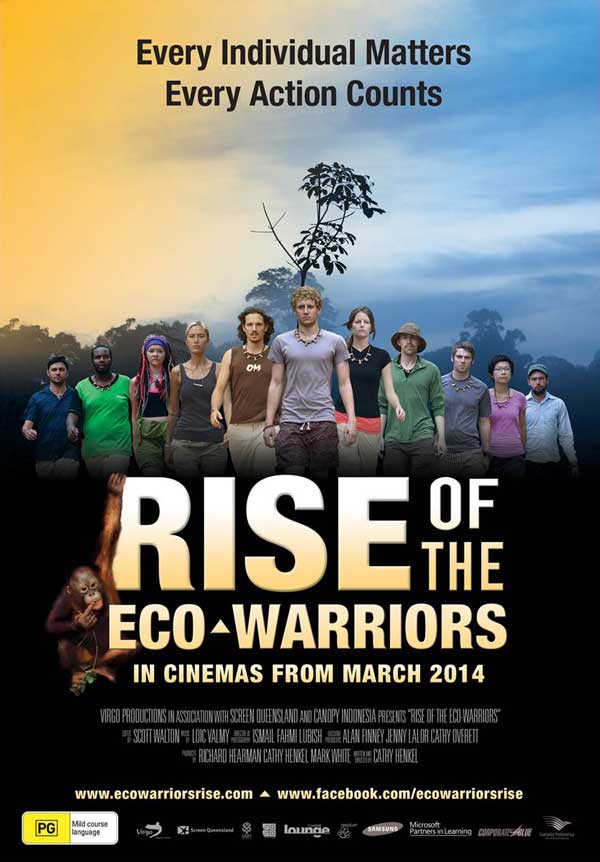 The Rise of the Eco Warriors is a film about a group of young people from all over the world who went to the Kalimantan jungle aiming to save orangutans from the effects of Palm Oil production which is destroying their habitat as well as having a huge global impact on climate change.
The Eco Warriors created an international project which works with schools across the world to assist the local dayak villages in saving orangutans and fighting climate change by undertaking reafforestation and orangutan protection projects. The Eco Warriors Team will undertake an Australian school tour which will involve a film screening of the Rise of the Eco Warriors Film and a talk by one of the filmmakers or Eco Warriors team followed by ongoing follow-up and relationships between the Eco Warriors and the schools involved.
For further information contact Judy: judybyronbay@yahoo.com


---
Survey
If you would like to complete the survey, please fill in the Form. Ignore the section at the bottom if you do not wish to become a member.
Join AIAA
Members only services include:
Access to members only AIAA yahoogroup which has the most up-to-date info on Indonesian culture and events in Australia.

Support for Indonesian cultural exchange projects through contact with Australian and Indonesian individuals and organisations committed to cultural exchange. Go to Join AIAA in the table of contents above left.
If you would like to join AIAA and become a member of indoarts e-group, fill in the Join AIAA form and send a cheque to:
PO Box 484 Byron Bay 2481 NSW Australia
or contact: Phone: 61 (07) 55278753 or 0405463663
Email: judybyronbay@yahoo.com
Membership Fees
$5...............hardship
$10 .............concession
$20.............employed
$50.............organisation
$30.............organisation concession
Create Your Own Website
We can create a page for your business that is linked from the AIAA site. Click Here
Editors: Judith Shelley Daniel Summerfield, Radha Koch, Marcus Herron, Darshi San
Web design: Carole Chapman Simon Kertonegoro, Daniel Summerfield
Thank you to all contributors. Terima Kasih Banyak!
Copyright © All information, pictures and sound on this page and the following pages are copyright and can only be reproduced for study purposes or sharing of information. Disclaimer: The articles contained in this magazine are gathered from a wide range of sources and do not necessarily reflect the views of AIAA members.