Byron Loves Bali
Project 1: Medical Supplies to Denpasar Hospital
The bombing left many survivors with serious burn injuries. The call went out to supply extra elongated pressure dressings, applicator rings and appropriate skin care cream to Denpasar Hospital's Melati ward, which was in critical need.
Byron Loves Bali member Ray King organised the purchase of burn creams and bandages at half price from local businesses such as Thursday Plantation, Sunspirit, Innovation Ballina and SSS Australia. Qantas delivered the supplies (free of charge) direct to the hospital.
Cost: $2,275
---
Project 2: Bomb Victim - Endang Isnanik and family
Ibu Endang Isnanik is the wife of Bali taxi driver Aris Munandar who was killed outside the Sari Club.
BLB made a donation of $500 for living expenses.
---
Project 3: Bomb Victim - Kadek Ngantina, 21
Kadek worked as a sales assitant in a Kuta surf shop. Kadek came from a "very poor" family and as an only child was his parents' sole source of income. Donations from the Indonesian Government and other sources were used to cover funeral expenses.
BLB provided a further payment of $400 to Kadek's parents.
---
Project 4: Bomb Victim - Dewa Kadek Rimbawa Yasa, 20
Dewa suffered burns, shrapnel wounds and hearing damage. He also lost his job as a cleaning boy, though his employer continues to offer some support. This salary enabled him to support his parents.
BLB provided regular payments over one year totalling $500 to help Dewa during his recovery and enable him to continue support of his parents.
---
Project 5: Bomb Victim - Muhamad Chotib, 52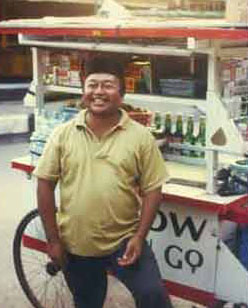 Muhamad and his wife Rahayu (pictured right) made a living in Kuta selling cigarettes from a mobile street stall. They were also able to support their family in Kalibaru. He was killed while working from his motorbike in front of the Sari Club.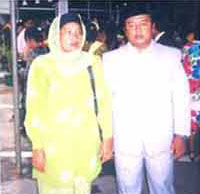 Unfortunately, the couple took out a business loan six months before the bombing, leaving Rahayu responsible for loan repayments despite the loss of her husband and his business ... his motorbike and all goods carried were destroyed.
BLB donated $2000 to his widow for living expenses, repaying the debt for the cigarette stall and warung.
---
Project 6: Bomb Victim - Kadek Alit Marganini
Kadek was a waitress at the Sari Club. Her husband died three years previous to the bombing. Her income helped support her then 4-year-old son, who lived with her parents.
Following her death, her husband's parents took the now orphaned boy to live with them. This left her father and step-mother with no support and no claim for assistance. Fortunately Kadek's father had a job in the office of the Desa.
BLB made a one-time payment of $400
---
Project 7: Bomb Victim - Bpk Sabri
Bpk, a warung seller, was left with brain damage.
BLB made a donation of $100 to go towards children's clothes and toys.
---
Project 8: Bomb Victim - Bambang Suwito
Bambang suffered burns and schrapnel wounds.
BLB made a donation of $2000 for computer studies and retraining.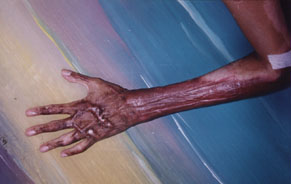 ---
Project 9: Orphanage in Tabanan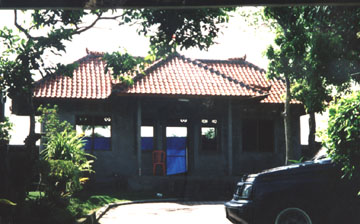 The orphanage in Tabanan was in great need; the $1000 donation from BLB was used for building works which included a warung. The booth will be used to train the children and help in skills development.
---
Project 10: Education fund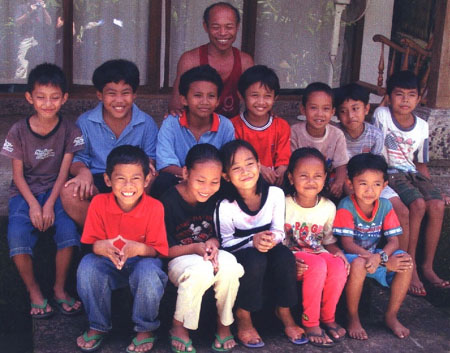 An education fund was established by Wally Halvorsoen, another generous spirited local. Wally has a large group of Balinese children whose families are unable to pay for their education. Many of these families have experienced great financial hardship as their income was derived from the tourist industry in Bali.
BLB will pay for five children's education for two years at a total of $2000. The donation will pay school fees and medical needs.
---
Project 11: Bomb victim - Ibu Chusnul Chotimah
Chusnul was amongst the most seriously injured survivors. Extensive burns and schrapnel wounds have required ongoing medical treatment. Painful skin grafts and removal of schrapnel will be part of her life for some time.
BLB donated $680 twoards the cost of a motorbike, "her little dream, her own scooter to go shopping for her kiosk'.
---
Project 12: Bomb victim - Ibu Sumerwati
Sumerwati was extensively injured, suffering burns and wounded limbs. Her right hand was badly injured, losing two fingers. One of the remaining fingers was crippled. Friends with a German connections organised free travel plus surgical and hospital costs in Germany. As well as the finger reconstruction, she had operations to remove keloid on her foot and schrapnel from her thigh.
BLB made a further donation of $2000 to cover hospital expenses which inluded an anaesthetist