A national network of oganisations and individuals involved with Australia-Indonesia cultural exchange.
AIAA's vision is to promote Indonesian culture, create new pathways for Indonesian artists to share
their culture and create an open forum for cross-fertilisation of ideas.

The First On-line Magazine about Indonesian Culture in Australia. ISSN 1443-3680.
Journal of Australia Indonesia Arts Alliance. Also available in the Archives of the National Library of Australia at: http://purl.nla.gov.au/nla/pandora/inspirasi
Contact Us: 0405463663 | Email: judybyronbay@yahoo.com
Ramayana Topeng Workshop and Performance 2014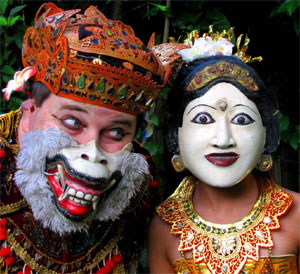 Presenting "The Lost Princess and the Monkey King"
"The famously beautiful Princess Dewi Sita is captured in a foreign land, and trapped in a strange garden. She waits for months and months to hear from her beloved Prince Rama, but no word comes...suddenly a friendly face appears in this strange land, a funny monkey who makes her laugh and forget her troubles... the biggest surprise is when the monkey turns out to be none other than Hanoman - magical King of the monkeys - Rama's great friend and he gives her Rama's ring to prove to her that her Prince is coming ... but Hanoman's adventures are not over, he has to find his monkey friends again and go through the kingdom of the frogs."
A new version of an episode from the ever-popular Hindu epic story the Ramayana where the students learn to present Balinese performance techniques such as Topeng (Mask) dance and Kecak (Monkey chant) while practising Bahasa Indonesia in a flexible story line...

The Ramayana team will be touring nationally during 2014 so please BOOK now !

Cost $7 per student per workshop or performance.
Book now!

Bookings: Contact Judy 0405463663 or judybyronbay@yahoo.com

Presented by Australia Indondesia Arts Alliance

---
Survey
If you would like to complete the survey, please fill in the Form. Ignore the section at the bottom if you do not wish to become a member.
Join AIAA
Members only services include:
Access to members only AIAA yahoogroup which has the most up-to-date info on Indonesian culture and events in Australia.

Support for Indonesian cultural exchange projects through contact with Australian and Indonesian individuals and organisations committed to cultural exchange. Go to Join AIAA in the table of contents above left.
If you would like to join AIAA and become a member of indoarts e-group, fill in the Join AIAA form and send a cheque to:
PO Box 484 Byron Bay 2481 NSW Australia
or contact: Phone: 61 (07) 55278753 or 0405463663
Email: judybyronbay@yahoo.com
Membership Fees
$5...............hardship
$10 .............concession
$20.............employed
$50.............organisation
$30.............organisation concession
Create Your Own Website
We can create a page for your business that is linked from the AIAA site. Click Here
Editors: Judith Shelley Daniel Summerfield, Radha Koch, Marcus Herron, Darshi San
Web design: Carole Chapman Simon Kertonegoro, Daniel Summerfield
Thank you to all contributors. Terima Kasih Banyak!
Copyright © All information, pictures and sound on this page and the following pages are copyright and can only be reproduced for study purposes or sharing of information. Disclaimer: The articles contained in this magazine are gathered from a wide range of sources and do not necessarily reflect the views of AIAA members.