Byon Harmony Day was held on Sat 1 April and marked a very special event due to the very generous support and attendance of the Indonesian Consul General Bpk Yana Mulyana from Sydney who volunteered to provide a fantastic delegation of 26 performers and Consular visitors including Suara Indonesia Dancers from Sydney, angklung orchestra Adelindo from Adelaide and "Bedoyo Pager Bumi" the incredible troupe of 16 artists from Jogjakarta who presented the World Class production by Garin Nugoroho  which was sponsored by the provincial government of Jogjakarta.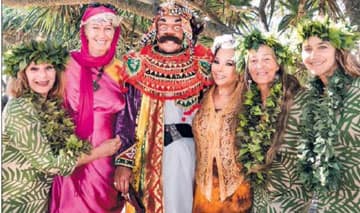 This magnificent performance was presented at Byron High School. A full program of events was planned to take place throughout the day at Main Beach Byron Bay. However due to the occurrence of the biggest floods in recent history, the daytime event planned for Main Beach Park had to be cancelled and against all odds the evening concert went ahead and was standing room only with many of the audience members flooding the stage after the show to personally thank the performers and the Consul General Bpk Yana Mulyana and his wife Irene Mulyana. Many audience members said it was "The best performance I have ever seen! "
Harmony Day was again coordinated by Judy Shelley with fantastic assistance from Dee Tipping assisted by John Lewis and the AIAA subcommittee- Byron Harmony Team and was a huge success for AIAA and the Nth Coast community special thanks to John Lewis for always being on hand to help out the AIAA events.
People who attended and participated were very appreciative to be involved in the Byron Harmony Day event and all performers generously volunteered their time. The Byron Harmony evening concert attracted the participation of about 30 performers, volunteers and workshop leaders and attracted an audience of approx 300.
Many thanks to coordinators Judy Shelley and Dee Tipping and many others in the Harmony Team for all their hard work. During the lead up to the Festival regular meetings were held with Yumiko Suzuki representing the Japanese community, Belle Arnold from Byron Council and the Migrant Settlement Officer from Vinnies Lismore.