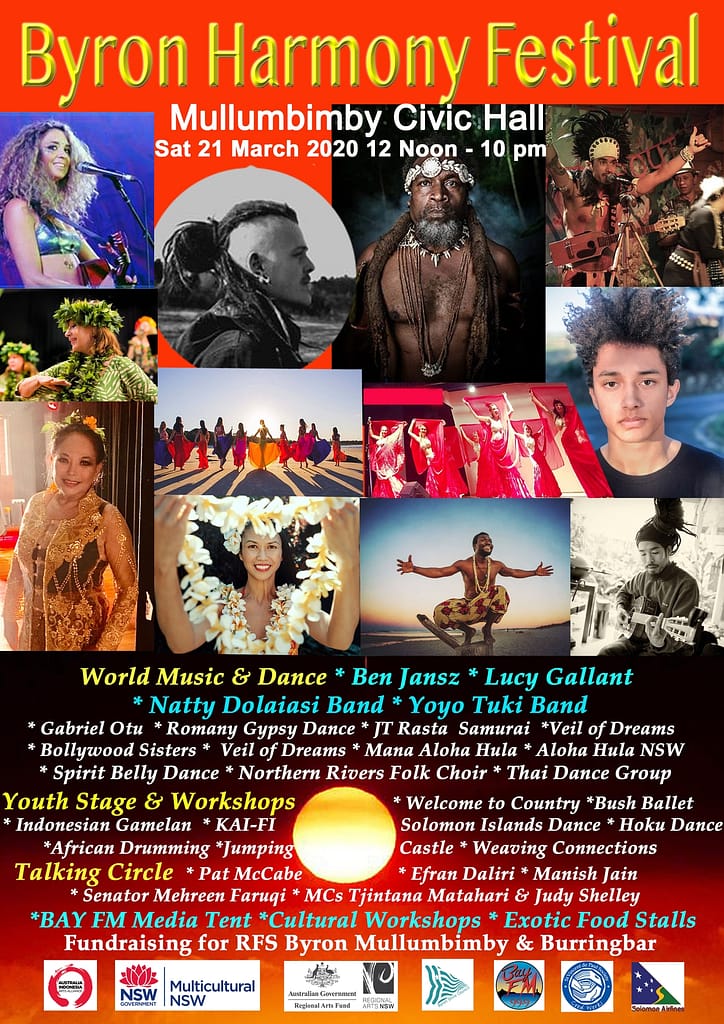 Byron Harmony Festival team and AIAA are proud to present Byron Harmony Day 2020 for the 14th year running! – on Saturday 21st March at Mullumbimby Civic Hall.
Our beautiful multicultural artists, locals and their families will once again perform spectacularly on the main stage including performances from the Middle East, Japan, Indonesia, Solomon Islands, Hawaii. Easter Island, African and many more …. As well as a feast of food, drinks and arts of many cultures available at the outdoor market!
AIAA has also been very fortunate to receive extra funding this year from Multicultural NSW in order to hold a series of workshops in many different cultures with schools and ethnic youth groups. They will be workshopping their various cultures, music and dance in the weeks beforehand in order to provide diverse performances on our new outdoor Youth Stage!
This year all fundraising efforts will be going to our local heroes in the Rural Fire Service (RFS) in Burringbar, Mullumbimby and Byron Bay, including restaurant vouchers, raffle and Benefit Concert at night.
Out Talking Circle Stage will also present exciting speakers and talks such as:
Efran Daliri – A celebrated speaker for Newkind – will be speaker at Talking Circle Stage!!
This is a very special opportunity to connect on a deep level for social change designed to inspire and empower the next generation of changemakers, activists, entrepeneurs and social justice advocates.
Efran is:
Program Coordinator at Unity in Diversity National Conference,
Refugee Campaign Advisor at Amnesty International Australia and Director at Newkind Conference
Pat McCabe (Weyakpa Najin Win, Woman Stands Shining) is a Diné (Navajo) mother, grandmother, activist, artist, writer, ceremonial leader, and international speaker. She is a voice for global peace, and her paintings are created as tools for individual, earth and global healing.
Senator Mehreen Faruqi – First Muslim woman Senator and Author of Embracing Complexity To Enable Change (2012) and Environmental Leadership: A Reference Handbook
Manish Jain, founder of many amazing schools (also unschooling) and projects in India https://www.facebook.com/profile.php?id=752470568
For further info please contact us at byronharmonyday@gmail.com
Here is the application link:
Byron Harmony Festival Performer and Stalls Application 2020