Natty Dolaiasi Cultural Exchange Project in Australia and New Zealand 2018-2019
Natty Dolaiasi – Cultural Warrior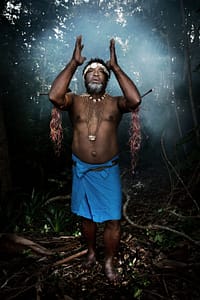 Natty Dolaiasi is a warrior of traditional tribal songs of the Solomon Islands, the bearer of deep cultural knowledge and rare mystic chants. Natty has travelled the length and breadth of the magical Solomon Islands and is deeply passionate about sharing the extraordinary sounds and harmonies that are the unique cultural richness of his cultural songs in 7 different tribal languages accompanied by the beat of the traditional log drums and rattles. Since 1995 Natty has represented the Solomon Islands at International Festivals, Film documentaries, recordings and performances throughout Australia and the Pacific, representing his country at peak international festivals such as the Melanesian Festival of Arts, South Pacific Festival of Arts, Pan Pipe Festival, Quandamooka Festival, Festuri Festival, Byron Harmony Festival as well as the most significant Pacific Islands films and recordings of our times such as Siva Pacifica and "Last Voices from Heaven". In 2018 and 2019 Natty undertook a major tour of Australia and New Zealand which has greatly enhanced and promoted awareness of the culture, music and arts of the Solomon Islands in both countries.
It All Started at Ethno Solomons!
The Ethno Camps network of 20 Ethno music camps across the planet is a really incredible way to support and share traditional ethnic music as well as networking and creating projects across countries, connecting musicians by holding hands across the oceans.
The Ethno Solomons Music Camp 2018 was fertile ground for international cultural exchange and proved an amazing opportunity for local Solomons musicians to connect with Community Arts activists/musicians from Australia – Maria Belle Isle and Judy Shelley who between them represented a number of highly creative Australian community arts festivals such as Quandamooka Festival, Island Vibe Festival and Byron Harmony Festival.
Solomon Airlines Support Made it all Possible

As a direct result of Ethno Solomons Natty Dolaiasi with great support from Solomon Airlines was enabled to join the Solomons team heading to Australia for the Jalu Kunjiel an Aboriginal-Solomons collaboration project for the Quandamooka Festival on Stradbroke Island Qld then Natty then extended the tour across the Southern Queensland and into NSW.
The Jalu Kunjiel project engaged artists from the Solomon Islands such as Kaumaakonga and Nathaniel Dolaiasi, and Vanuatu artist-Tio Bang, to work in collaboration with a team of indigenous artists from Minjerribah, sharing language, song, dance and music to create a contemporary cultural performance to showcase at Kunjiel, a key event of Quandamooka Festival 2018. The project artists implemented a series of workshops for young emerging artists from the Yulu-Burri-Ba dancers to teach them skills in performance arts and create one united collaborative troupe for the Jalu Kunjiel Performance. The collaboration that resulted became the highlight of the closing ceremony of the Festival with exciting Aboriginal and Solomons dance, song and music with fire dancing and even fire drumming!
After completing the amazing Jalu Kunjiel project Natty headed off on tour around Southern Queensland and the Rainbow Region Northern NSW assisted by the sponsorship and management of Judy Shelley from Byron Harmony Festival and Maria Belle Ilse. Natty performed at a wide range of highly significant cultural events such as festivals, schools and venues in the region including the amazing Festuri Festival Maroochydore, Moreton Bay Multicultural Festival, Moofest in Mooloolah Qld, Pasifika Action- Rize Against Climate Change, Spankinhide Concert and the Kulripa Rally in Brisbane.
He also undertook many musical collaborations – recording and performing with well-known artists in Qld and NSW such Elliott Orr, DMTFM – Tikal Sermet and Craig Mason, Peter Lehner and others.
As a result of this project the Solomon Islands culture was shared with many thousands of audience members both at live shows and also on radio– people of all ages and backgrounds from school kids in Benowa Gold Coast to a seniors choir in Bangalow NSW and the Ukelele Collective in Cleveland Qld. Natty also became a regular guest and presenter on Bay FM Community Radio, Byron Bay sharing Solomons culture through interviews and live performances on many of the radio shows such as North Coast Positive, Make a Change and Multicultural Nation.
The tour constantly acknowledged the support of Solomons Airlines and highlighted the importance of Solomon culture to many thousands of Australian audiences and radio listeners across the region.
Natty Headed back to OZ and NZ in 2019!
The international Ethno Music Camp network again provided a wonderful opportunity for Natty Dolaiasi to represent Solomons culture not only in NZ but to connect with musicians from all over the world, by inviting Natty to join in Ethno NZ in Auckland in January 2019. The Ethno participants from many countries such as India, Sweden, Norway, Chile and Iran were thrilled to be able to directly experience the beautiful Solomons music and culture and chose Natty's traditional song Lau Omea as the headlining song of their performances at major festivals, venues and video projects.
This highly valuable cross-cultural exchange and collaboration also provided a fantastic opportunity for Natty and fellow Solomon musician Willy from KMK to directly learn and share with the Maori cultural representatives involved in the project, they learnt and performed the exciting Haka and other famous Maori songs.
Some of the Ethno NZ highlights were: beautiful concerts for some of the Whanau at Hoani Waititi Marae, for people who have arrived in New Zealand as refugees at the Mangere Refugee Resettlement Centre, the wider public at Silo Park outdoor venue and the enthusiastic folk/ traditional music fans at the Auckland Folk Festival.
Natty Headlining at Byron Harmony Festival at International Tourist Destination Byron Bay
Natty Dolaiasi's return to Australia was planned a year in advance to coincide with foremost multicultural festival of the Northern Rivers Region – Byron Harmony Festival 2019!
This festival is held every year in the iconic Mullumbimby Civic Hall and represents the largest festival of its kind in the NSW North Coast. With over 300 performers onstage for a 12-hour concert representing all world cultures – Natty Dolaiasi was the special international guest of the Festival!
Solomon Islands culture has been virtually unknown in Byron Shire up until now so this was a great opportunity to introduce Solomons culture to a new audience by inviting Natty Dolaiasi onstage to impress the audience with his beautiful songs and music! Performing both solo and in collaboration with rising star indigenous band star JUZZ – who perform indigenous Hip hop/RnB – was quite a sensation and greatly enhanced the thousands of audience awareness of the Solomons culture.
Other highlights of Natty Dolaiasi Australian Tour April 2019 included being one of the main artists involved in the BECOME project – cultural workshops for Youth funded by Multicultural NSW. Natty shared Solomon Islands stories, drumming, singing and dance with young people at the "Links to Learning" Girls and Boys groups, the amazing Byron Youth Theatre group and a whole school workshop with Rapa Nui artist Yoyo Tuki at the Cape Byron Steiner School.
Another major Festival – the Kinship Festival in Murwillumbah invited Natty to represent the Solomons there. This is a very special indigenous family festival involving thousands of audience and top Aboriginal artist in a fantastic festival day. As a result of Natty's involvement the Festival has expressed strong interest in creating more connection with Solomon Islands and its cultural artists. Natty performed in collaboration with JUZZ and his Band of young indigenous singers, composers and HipHop rappers.
While in Byron Natty was also fortunate to make a strong connection with the renowned SAE University which is specific to sound engineering, video production and animation. As a result he has commenced a major recording project with local Solomons SAE students to record and archive Solomons traditional chants.
While on tour Natty collaborated and performed with many very highly regarded artists such as Greg Sheehan, JUZZ, Anna Smyrk, Yoyo Tuki, DMTFM and more – creating ongoing connections and networks while planning the next leg of his Australia Tour coming up in August- November 2019.
Natty is currently planning his next overseas trips with a Taiwan Museum invitation to perform in Taiwan plus a return to Australia leading a cultural delegation of four Solomon Islands musicians to complete his participation with the BECOME Cultural Workshop Project in Byron Shire funded by Multicultural NSW, as well as to participate with the Island Vibe Festival in Stradbroke Island including undertaking collaborative work with the Aboriginal community, local musicians and choirs.