Announcing the new Multicultural Nation Line-up for 2023!
The Multicultural Nation Radio Show goes to air every Tuesday 1-2pm at Bayfm 99.9 also streaming live on bayfm.org
Australia is a Multicultural Nation and the Multicultural Nation show is a BayFm radio program that provides a voice for people of diverse cultural backgrounds, reflecting the beauty of multicultural Australia. The show features music, culture, interviews, community news and information, including for new migrants, refugees and emerging communities. The aim of this program is to promote community harmony, peace and unity – both locally and globally. Presented in English with as many other languages represented as possible.

Many thanks to the Community Broadcasting Foundation
for funding Multicultural Nation.
Our line-up for this year will be:
First Week of the Month: Mico Sundari – Japanese Show 
Second Week of the Month: Judy Shelley and Natty Dolaiasi – Multicultural show featuring Solomon Islands Update and Indonesian language and culture.
Third Week of the Month: Jonny Simons – African music and culture 
Fourth Week of the Month: Hiromi Shibasaki – Japanese Bento Box
Fifth Week of the Month: Nancy-Jo Falcone – Multicultural Nation 
For interviews, to send music or press please email: judybyronbay@yahoo.com
Multicultural Nation is sponsored by the Community Broadcasting Foundation and Solomon Airlines.
Presenter Bios
Main Presenter – Judy Shelley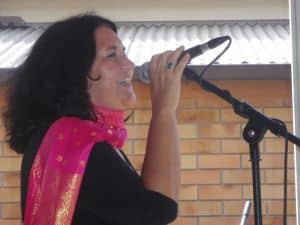 Judy Shelley is a radio presenter, visual artist, event manager, vocalist, community worker and activist. Judy has been a radio presenter at BayFM Community Radio for over 25 years, presenting on two radio programs- Suara Indonesia and Multicultural Nation, which provides a voice for people of multicultural backgrounds. She is currently the Main Presenter on the Multicultural Nation Radio Show. Her two main cultural connections at the present time are the Solomon Islands and Indonesia. Judy has been a member of the BayFM Management Committee and has also been the coordinator of ethnic radio training at BayFM for many years. Judy has also previously co-hosted the radio show "The Heart" at River FM Lismore.
Judy held her first art exhibition in Bali, where she started the Seniwati Bali Group-Women Artists Group and has exhibited in many major exhibitions in Australia and Indonesia. She then founded the Australia Indonesia Arts Alliance, sponsoring over 30 international artists to visit Australia coordinating hundreds of cultural performances at schools, festivals and venues across Australia. For 14 years she was a main coordinator of Byron Harmony Festival and also started her own touring company called Colours of the World Tours. Judy has performed at major festivals and venues such as Woodford Folk Festival, Island Vibe Festival, Melanesian Arts Fest, Solomon Islands, Inspirasi Arts Festival and Auckland Folk Festival. For interviews, press releases and more info please email: judybyronbay@yahoo.com
The Japanese Bento Box Show with Hiromi Shibasaki
'The Japanese Bento Box' is a monthly radio show on the fourth Tuesday of every month which promotes the Japanese rich culture and wisdom through interviews and community news. We invite Japanese locals who live in the Byron Shire and share their journey in finding their new home away from home as well as their current lifestyle and passion. The show is presented by Hiromi Shibasaki, who moved to the area in 2015 to pursue a more sustainable lifestyle. The show aims to offer the Byron Bay community an insight into the local Japanese culture, be the voice and platform for the Japanese people to further connect, integrate with the local community.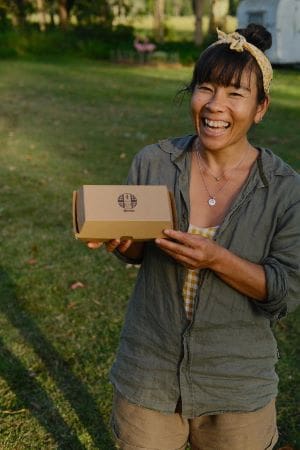 Having spent 10 years in a high paced corporate career in Japan, working for global financial institutions and founding a social venture business, it was a turning point when Hiromi was offered and took up the challenges of a leading role in a global environmental NGO. In parallel Hiromi took up a position presenting the Sunday morning show on National commercial radio. These dramatic career changes and experiences solidified her to realize where her true passions lay. This was to create a more sustainable lifestyle connecting people , communities and nature.
In 2015, Hiromi set on a new adventure moving to Australia, settling here in Byron Bay. She founded a small boutique travel guide business catering to Japanese tourists sharing with them some of her local connections and experiences. She is also a qualified chef, running a small macrobiotic catering business and much loved miso making workshops.
Her passion is connecting people and sharing different cultures. She has extensive experience in public speaking internationally on topics that include the environment, ocean conservation, conscious eating, surfing tourism and sustainability. This led her to host Bay FM's Japanese program on the Multicultural Nation Show. Email: hiromi.matsubara@gmail.com
Japanese Show with Mico Sundari
Voice Therapist | Nada Yogini Born into a family of Japanese Shinto line, Mico has been dedicated to the path of "Nada Yoga"- Yoga of sound for 13 years – studied and practiced with great teachers including Gina Sala (Global Vocalist /Cirque Du Soleil) . A host of New Moon Kirtan, a tutor of Sanskrit in Byron Community College and a radio presenter of Byron Bay FM (First Tue, 1:00pm-2:00pm Multicultural Nation Show). She is happily supporting people to reconnect with their inner sanctuary with the power of "Breath" and "Mantras" to manifest their BIRTH VISION, "Samkalpa". Email: k.hinooka@gmail.com
John Gabriel Alexander Simons
My name is John Gabriel Alexander Simons. I was born and raised under the Apartheid Regime in Elsie's River, Cape Flats, Cape Town, South Africa, a Coloured (Mixed Race) suburb, riddled with drugs, rape, violence and gang warfare (a problem which still exists today.) I come from a family of Teachers, Artists, Musicians and Racial Equality Activists.
I migrated to Australia in the 80s and completed my University Degree at the National Art School, Alexander Mackie College of Advanced Education and Sydney Teachers College.
I am a self-taught drummer, percussionist and singer who performed in a variety of African and Caribbean bands throughout the 80s and 90s while doing Casual Relief and block teaching in the Sydney Metropolitan area. During this period, I was heavily involved in the anti-Apartheid movement as an Artist and Musician.
In 1998 I received a full time Visual Arts and Music Teaching position, in the Northern Rivers, while gaining full time custody of my two young daughters. In this position a managed to maintain some part time music work as a percussionist with DJs.
In 2014, after my daughters completed their studies at University, I retired from a full-time teaching position and in 2015 studied Electronic Music Production at SAE.
In 2021 till present, I am studying to complete my Bachelors of Song Writing and Music Production at the SAE Campus in Byron Bay, which at the latest will be August 2023.
Coming from South Africa from an Artistic and Musical Family and having been a full-musician, educator and activist, I have a deep passion for African and Diasporic music. I wish to contribute this knowledge to a captive audience and help remove the stigma of African music being categorised as "World Music" and only belonging to World Music Events away from the mainstream, when in fact African and Diasporic Music has strongly influenced mainstream music.
I compose and write my own music on a Digital Audio Workstation (Ableton) and have been less active in live performance, which I have been involved in for most of my life. The main focus of my compositions are of an African and Diasporic nature. I have been in training with Yolanda Santiago since late 2022
and have been given an African music show on Sundays 4-6pm which I have named "Afriquencies"
I wish to contribute to the wider audience a sense of involvement closeness and unity in the education and sharing of African and Diasporic Music.
Natty Dolaiasi
Sponsored by Solomon Airlines
Natty Dolaiasi has been involved in Multicultural Nation Radio Show for five years as presenter, guest musician and Solomon Islands correspondent.
Natty is a renowned custodian and warrior of tribal songs of the Solomon Islands, the bearer of deep cultural knowledge and sacred chants. Through sharing this rare tribal music Natty Dolaiasi welcomes the listener to the beauty and spirituality of the Solomon's mystic songs and music. Natty has travelled the length and breadth of the Solomon Islands receiving the gifts of traditional knowledge from the elders. He is deeply passionate about sharing the extraordinary sounds and harmonies that are the unique cultural richness of his cultural songs in 7 different tribal languages accompanied by the beat of the traditional log drums.
Since 1995 Natty has represented the Solomon Islands at International Festivals, Film documentaries, recordings and performances throughout Australia and the Pacific, representing his country at peak international festivals such as the Melanesian Festival of Arts, South Pacific Festival of Arts, in Australia at Quandamooka Festival, Island Vibe Festival, Byron Harmony Festival and Festuri Festival as well as the most significant films and Pacifica recordings of our times such as Siva Pacifica and "Last Voices from Heaven". In 2018, 2019 and 2020 Natty undertook major tours of Australia and as well as visiting NZ and Taiwan on a mission to share these exquisite musical treasures from his heart to the world.
For more information visit: http://www.facebook.com/Multicultural-Nation-999-Bay-FM-1917729585162609
---
Multicultural Nation 2022
SUARA Indonesia is part of Multicultural Nation Radio Show @ BayFm Community Radio.
This year continued with the successful radio show Suara Indonesia @ BayFm as part of the Multicultural Nation Radio Show, which goes to air every Tuesday @ 1-2pm
Judy Shelley is the main presenter, plus new Indonesian presenter Tikal Sermet, Muslim present Malikeh Michels and the Japanese presenters Yumiko Suzuki and Hiromi Matsubara,
Yumiko and Hiromi present the Japanese Show every 4th week, along with Japanese presenter JT Rasta Samurai with "Smile Japan" every 2nd Tuesday.
The program presents many interesting cutting edge guests and interviewees.
1. Playback of recent shows
2. Visit the Show of Festive German Music presented by Isolde on Multicultural Nation 20/12/2022 (BayFM)
3. For more info: see the BayFM Multicultural Nation page
4. Visit the Multicultural Nation Facebook page
Bay FM
Bay FM 99.9 Community radio serving the Byron Shire and beyond from Byron Bay, Australia. The most easterly station in the nation
Website: https://www.bayfm.org/
Facebook: https://www.facebook.com/99.9.BayFm/
Multicultural Nation with Judy Shelley, Malikeh Michels, Yumiko Suzuki, Hiromi Shibasaki,, Junichi Tanaka, Kirana Anderton, Dharma Bradridge.
Multicultural Nation BayFM 99.9 for original article
We are here to Declare that Australia IS a Multicultural Nation and we Demand an end to all discrimination NOW ! Multicultural Nation is a BayFm radio program that provides a voice for people of diverse cultural backgrounds, reflecting the beauty of multicultural Australia. The show features music, culture, interviews, community news and information, including for new migrants, refugees and emerging communities. The aim of this program is to promote community harmony, peace and unity – both locally and globally. Presented in English with as many other languages represented as possible. Many thanks to the Community Broadcasting Foundation for funding Multicultural Nation.
First Tuesday – Suara Indonesia Second Tuesday – Smile Japan with JT Rasta Samurai
Third Tuesday – Warriors of the Rainbow Fourth Tuesday – The Japanese Show with Hiromi and Yumi
Fifth Tuesday – Multicultural News and Views with Malikeh Michels
Listener feedback "I've been listening to the Indonesian and Multicultural shows for about 25 years ..it's so important for cultural diversity, the traditional music and gamelan is very calming and beautiful and we have a big community of Indonesians … Big Thanks to Judy Shelley !" Rose Rath Byron Bay.
---
Suara Radio Show Archives
Read about our Suara radio show from 1999