Directory of Cultural Contacts in Java
| | |
| --- | --- |
| Java | Click map to go to another region |
Jakarta
Jakarta International Puppetry Festival 2006
Juliana Wilson, Festival Director
Email: jakartapuppetfest@yahoo.com
Address: Jalan Utan Kayu 68-H Jakarta Timur Indonesia
Phone : 62-21-857-3388
Fax : 62-21-857-3387
Website: http://www.jakartapuppetfest.com/

---
West Java
Bandung
Bandung, which enjoys cool weather year round is located 180 km from Jakarta. As the centre of Sundanese culture, Bandung provides many opportunities to enjoy local art. There are many spectacular music performances and Sundanese dance, with beautiful and talented village children.
---
Gedung Pertunjukan
Taman Budaya
Jl. Bukit Dago Utara
Kusenian Tradisional and Theater
Terbuka Rp. 500

Rumentangsiang
Jl. Baranang Slang 1
Phone: (62-22) 4233562
Kesenien Tradisional and Modern
Rp. 1.500, Rp. 3.500, Rp.10.000
Tiap Malan, jam 19.30

STSI
Jl. Buah batu 212
Phone: (62-22) 304432
Kesenian Tradisional and Theater
Rp. 5.000,-110.000
---
Group Kesenian
Jugala Group
J1. Kopo 15-17
Phone: (62-22) 5220333 - (62-22) 5211092
Kesenian Trad. Sunda-Jaipongan

Tati Saleh Group
J1. Salendro Timur
Kesenian Trad. Sunda-Jaipongan

Pramesti Gita
J1. Ir H. Juanda
Kesenian Trad. Sunda and Jawa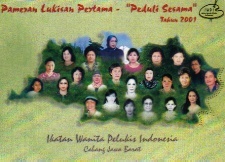 ---
Ikatan Wanita Pelukis Indonesia Jabar
(pictured right)
JI Prof.Sutami No.91 Bandung 40152
Telp/Fax: (022) 2011898
---
IWPI (Ikatan Wanita Pelukis Indonesia)
Jl. Cempaka Putih Tengah No. 57 Jakarta Pusat
Telp. 4246955
---
Kelompok 282 Bandung
Sekretariat J1. Kopo. No.282 Bandung
Phone: (62-22) 635138
---
Objek Wisata Alam
Punclet
J1. Ciumbuleuit Atas
Sarana Jogging, ada Nasi Timbel and Lauc pauknya

Curug Dago
Jl. Jago atas depan terminal dago
Air Terjun, Taman, Hutan, Batu Situs
---
Pangandaran Gallery and the Artists Co-operative
Exhibitions, gallery, festival, local artists. panugarangallery@hotmail.com
---
Postal Museum
The Postal Museum is on Jl Cilaki No73
---
Rumentang Siang Theatre
Jalan Peta Kosambi Marketplace. Weekly performances of traditional art of self defence known as Pencak Silat.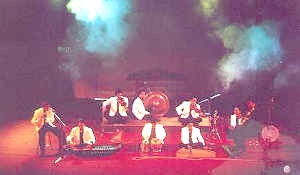 ---
Sambasunda
Sambasunda (pictured on right) is an Indonesian musical group. It is a percussion group which utilise a combination of Sundanese and Balinese Gamelan sounds to create new music.
<http://surf.to/sambasunda
---
Sasana Budaya (Cultural Centre) of Bandung
In the Northern part of the city. There are performances held here during different times of the year using both an outside stage and inside auditorium.
---
Saung Ujo
Jl.Padasuka 118 Banduung 40192
Telp. 7271714
---
Sekar Tampaksiring
Sanggar Tari Bali
Every Sunday
8.00am - 1pm. 1 1/2 Hour Sessions at Sekretariat Tampaksiring Jl. Civing Wanara No 18, Bandung
Telephone: 022 2507350
---
Sanggar Seni and Tari
Lugay Pusaka
Jl. Cihampelas 108 (Jaipongan)
Phone: (62-22) 204178

Kingkilabang
Jl. Cibadak (Jaipongan)
Phone: (62-22) 6016634
Rp 5.000.-/ Rp. 10.000

Pt. Saung Udjo
Jl. Padasuka 118
Phone: (62-22) 771714
Angklung and kensenian Tradisional
Rp. 12.000,- Tiap hari, jam 15.30
---
Taman Rekkreasi
Kebun Binatang
J1. Tamansari 6
Phone: (62-22) 4263919
Rp 3.000

Taman Dewi Sartika
J1. Merdeka
Terdapat patung Dewi Sartika

Taman Lalu Lintas Ade Irma Suryani
J1. Belitung 1
Phone: (62-22) 4201667
Rp 500, - Rp.1.000, - (hari libur)
Tempat Rekreasi anak - anak

Taman Hutan Raya Juanda
J1. Bukit Dago Utara
Rp 500
Hutan dengan beraneka jenis tanaman. patung.
Ir. H. Juanda perkemahan, Goa Japang and Goa Belanda

Taman Alun-Alun Bundang
J1. Alun-alun (Pusat Kota)

Taman Maluku
J1. Ache

Taman Cilaki
J1. Cilaki

Saung Udjo
Jl.Padasuka 118 Bandung 40192
Phone: (62-22) 7271714

Sundanese Art and Bamboo Craft Centre
Angklung & kensenian Tradisional Rp. 12.000,- Tiap hari, jam 15.30
---
The Sanan Ambu Art Building
Jalan Buahbatu, part of STSI (College of Art) is a must for all theatre lovers and can enjoy many performances by students. Rumentang Siang Theatre on Jalan Peta at the Kosambi Marketplace holds weekly performances of traditional art of self defence known as Pencak Silat.
---
Central Java
---
Jogjakarta
CaSa CaSinta - Member AIAA
Gallery, cultural exchange and visual arts exhibitions
Carlos de Haas
Jl. Tirtodipuran No 25 Yogyakarta 55143 Indonesia
Phone/Fax: (62) 02 7438 1349

If you would like to send information to be put into the directory please email us: austindoarts@hotmail.com
---
Study Gamelan in Jogjakarta
ACICIS can now place participants for a semester in the Indonesian Institute of Arts in Yogyakarta, one of Indonesia's premier institutions for the performing and visual arts. Students can study gamelan, wayang kulit, dance, dalang studies and many other subjects.
http://www.acicis.murdoch.edu.au/hi/gamelan.html
Prices are very reasonable
http://www.acicis.murdoch.edu.au/hi/costs.html
Benefits: Western Resident Director oversees the program in Indonesia;
ACICIS does all of the paperwork for a 12 month temporary resident visa (Kitas);
3 day live in orientation on arrival
ACICIS is a consortium of Australian universities which sends students to study for a semester at Indonesian universities.
http://www.acicis.murdoch.edu.au/
We welcome non-Australian participants.
David Armstrong
Administration Officer
ACICIS Secretariat
Division of Arts
Murdoch University
Murdoch, Western Australia 6150
Phone (+61) 8 9360 6254
Fax (+61) 8 9360 6575
If you would like to send information to be put into the directory please email us: judybyronbay@yahoo.com