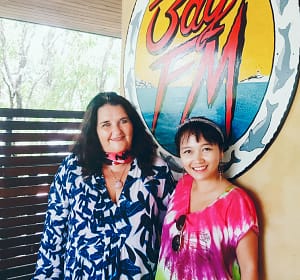 Following on from the highly successful AIAA presentation of Kalimantan Dayak culture as part of the Asia Pacific Writers and Translators Conference in Singaraja Bali in October 2017 which included the involvement of Dayak activist Emmanuela Shinta (along with Kalimantan activist David Metcalf), Emmanuela Shinta was again invited to participate in the APWT for 2018 held in the Gold Coast Qld in December 2018.
AIAA coordinators Judy Shelley and Dee Tipping supported Emmanuela Shinta by inviting her to Byron Shire to present her story. Shinta spoke at Greens Party meetings in Brisbane and Byron as well as doing an eco-tourism visit to the Crystal Castle. She was supported with billeting by Judy Shelley.
AIAA volunteer Dee Tipping organized a very crucial "Camp Fire Conversation", a private gathering at the country home of Linda and Christopher Dean.

Emanuella Shinta presented her story of being a Young Dayak Activist in the face of massive deforestation for palm oil agriculture in her traditional home in Kalimantan.
Invited guests included local rainforest conservationist Kelvin Davies founder of Rainforest 4, Mark White who produced Rise of the Eco Warriors and young local activist Holly Somerville who set up "Tell Someone Who Cares" among others, for a film screening and talk by Shinta.
This small but significant gathering of key people resulted in Kelvin Davies and Christopher Dean putting their heads together in supporting Emanuella Shinta with a monthly flow of money to her group Ranu Welum. This funding initiative means that funding channelled through Rainforest 4 will significantly support Shinta and her groups work in Kalimantan!
Well done Dee!!
On 21 June 2019 a further "Camp Fire Conversation" was held with guest speaker Paul Daley who recently returned from Kalimantan where he met with Emanuella Shinta and her young group of young Dayak Activists. Once again key guests, impressed with what had been achieved so far, dug deep to help bolster regular funding to Emmanuela Shinta from Ranu Welum! Fantastic effort by Dee Tipping supported by Chris and Linda Dean plus the wonderful support of Kelvin Davies and Rainforest 4 Foundation!