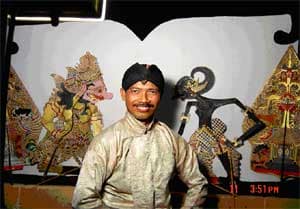 Sumardi, highly acclaimed Indonesian Shadow Puppeteer is back for 2009 after successful National 2006 & 2007 Australian School Tours!
As well as being an esteemed teacher of Gamelan music he has earned the title of Master Puppeteer for his distinctly Indonesian performance style.
Sumardi will take students, via Gamelan and Puppetry, through a 50 minute interactive workshop of myths and stories that allow students an insight into Indonesian history & culture.
Sumardi performs in traditional dress while playing traditional instruments with his feet to accompany the Shadow Puppetry. Theatrical storytelling brings to life the ancestral spirits said to dwell inside the puppets. The climatic scenes are based on Hindu epics, such as the Ramayana Cycle. Traditional Shadow Puppets are flat, translucent figures, cut out of leather, and projected against a screen with a light source from behind.
Cultural Infusion's Sumardi 'All Day' program offers performances and interactive (hands-on) workshops of Wayang Kulit (The Story of Dewa Ruci), Wayang Kancil (The Story of the Eagle the Rescuer), Puppet Making Workshop and the Kidang Dance (Tari Kidang) workshop. $4.50 per student + GST per student.
Call 1800 010 069 and speak to Travis to make enquiries and ear-mark the dates that would best suit your calendar.